Ken and Glenda Cahill had a dream — a log cabin home in the mountains. They started by searching far and wide for an expanse of land with a building site that could take advantage of the gorgeous seasons on display every year in the Great Smoky Mountains. They finally found 45 acres in the perfect spot. Then, they decided on a floor plan and had Maple Island Log Homes in Michigan craft it out of red pine logs. Meticulously, each log was notched and numbered, then the house was dismantled and loaded onto seven 18-wheelers and trucked to North Carolina. There it was reassembled, and Ken and Glenda began the back-breaking, tedious work of staining each log and chinking between every crevice. Next came the roof, windows, doors, plumbing and all the other million details that go into making a shell of a structure into a liveable home. During the 2-year process, Ken and Glenda kept their "day jobs" through the week, and then camped out on the property on weekends — in all seasons — to complete their labor of love. Along the way, they realized that the most practical way to be able to afford their large dream home was to share it and make it functional as a Bed and Breakfast. 
The main lodge sits at an elevation of 2700 feet, a perfect vantage point for the sweeping vista below. As they explored their newly-acquired property, they discovered all kinds of berries growing on the hillside. The name Wildberry Lodge became the logical choice. The names for the five guest rooms follow the theme: Gooseberry, Strawberry, Blueberry, Raspberry and the larger Blackberry Suite. Steve and I stayed in the Blueberry Room, but, because it was vacant at the time, I was also able to get a good look at the Strawberry Room.
Several years after the lodge opened in 2002, a guest cabin was added that is a perfect honeymoon suite because of its separate location and privacy, but it can also be opened up and rented for a whole family with both upstairs and downstairs rooms to enjoy. 
Each room has its own private bath and balcony or deck. Highspeed wireless internet is provided, and fireplaces are in most rooms. 
There is a large great room downstairs by the kitchen with a huge stone fireplace, and an upstairs loft has a flatscreen TV and sitting area with snacks, drinks in a refrigerator and a large DVD collection. 
The basement has a fully-equipped game room with a pool table, tabletop shuffleboard, and video games. 
Outdoors, guests will find a large deck (perfect for basking in the natural surroundings), hammock swings, a fire pit for Smores, and a hot tub. 
Afternoon appetizers are prepared, which we enjoyed thoroughly, but almost every B & B guest I've ever met mentioned the anticipation of breakfast as being at the top of their reasons for staying in a Bed and Breakfast. Check out a fuller description here, but on the morning we were at Wildberry Lodge, the menu consisted of Wine-Poached Plum, Lemon Pecan Pancakes, Sausage Patties, Lemon Cream Roll with Strawberries. It was delicious, and the setting was superb.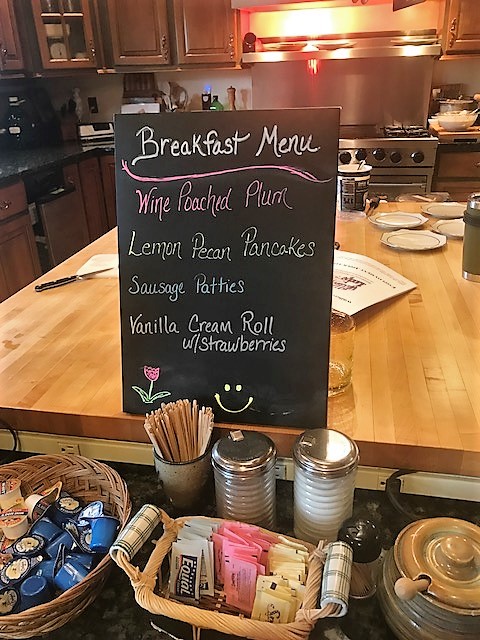 The innkeepers don't allow guest to bring pets, but they have cows, goats, 4 rescue dogs and a cat on the property. So, if you're an animal lover, you'll be in good company. 
Another couple who were guests when Steve and I stayed at Wildberry chose it specifically to decompress from very hectic jobs. They purposefully wanted to unplug, to avoid traffic, to unwind, relax and refocus. The lodge is rustic, natural and peaceful, and the innkeepers are very environmentally aware, implementing lots of "green" practices. They are hospitable and happy to give you recommendations about nearby restaurants and attractions. The lodge is 12 miles from Asheville, and you'll need your GPS to find it off of some windy, country roads, but if natural beauty and a place to just "be" is on your want list, then Wildberry Lodge is a great choice.