The 12th Annual Pearson Cousins Camp is now in the books, and, as always, Steve and I reflect, laugh, analyze and start making our list of things to keep or do differently next time.
This year we had 11 in the house for the week, ranging from first-timer Silas, age 4, to teenager/veterans Luke and Nathan, ages 14 and 13. Nathan has now attended every one of the 12 Cousins Camps, and Luke is the oldest of the bunch. Allie, age 18 and about to be a college freshman, was only able to join us for a few hours on Friday when we were in Franklin, TN. She's a busy girl.
Our theme for the week was "Small Things Can Make a Big Difference," and the "small things" part included simple acts as well as young people.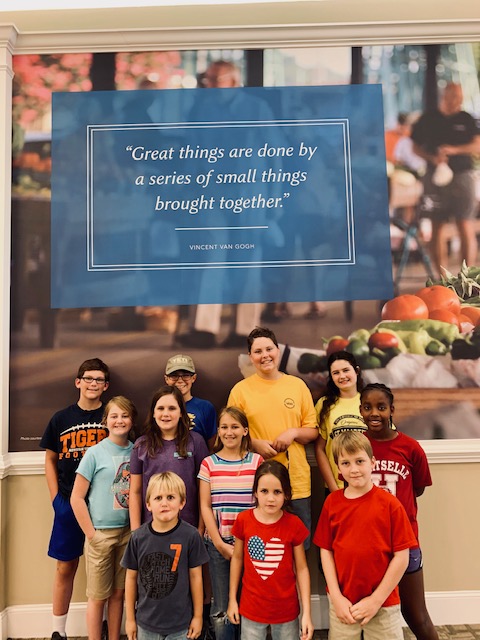 Many of our week's activities revolved around the theme — 1) Space and Rocket Center just 2 days after the 50th anniversary of the moon landing and famous quote "One small step for man, one giant leap for mankind," 2) Cook Museum of Natural Science where we saw (among MANY other things) an insect that can eat a snake!!!!, 3) painting rocks with happy colors to scatter around a nearby park, etc. And, 4) each night we had a Bible story emphasizing the contributions of young people and what an impact they made. Our characters included Moses, Samuel, David, Esther, the lad with 5 loaves and 2 fish who gave his lunch which Jesus used to feed 5000, and, we ended with Jesus Himself who came into the world as a baby and made the biggest difference of all. We have some natural leaders in the group who LOVE organizing shows/plays/dramas, so we gave them full rein to write, cast and direct the skits until the last night when Granddaddy Steve wanted to really talk about Jesus.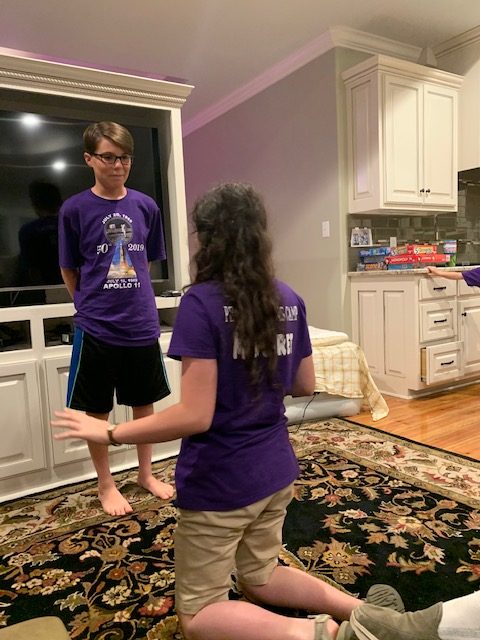 First takeaway? Our grandchildren know a LOT about the stories and people in the Bible. We were amazed at the insights they had and the imagination they used to bring the stories to life. Kudos to the parents, pastors, youth ministers and Sunday School teachers who have instilled so much truth into their minds and hearts.
Teenagers create unique challenges. When the kids are little, it's physically demanding to have a lot of them for a week because so many things have to be done for them — tying shoelaces, putting on floaties, helping with showers, finding their lost items, cleaning up spills, etc. etc. But, with teenagers, the challenges are more mental and emotional. They bring their adolescent swagger with them and sometimes some attitudes have to be "nipped in the bud." Get my drift? Reminders to show gratitude, to be good role models, to be kind FIRST, etc. came into play. I found myself saying so many things I had said to their parents when THEY were teenagers.
Youngers constantly watch the olders. They know they're not "the big kids" yet, but they watch every move the older ones make, and they have great instincts about the older ones. For instance, I watched on several occasions when Silas (4) grabbed Seth's (12) hand when we told them to get a partner or watch crossing the street, etc. Silas and Seth, before this week, have spent very little time together. Yet, Silas intuitively trusted his cousin Seth.
I didn't hear any whining. Yes, "No WHINING" is one of our big rules every year, but it's still amazing when you realize they aren't doing it. Maybe they sense that we just won't put up with it or maybe they realize that the whole group simply must adopt an "all for one and one for all" kind of mentality to successfully navigate the week. It's impossible for every person to be happy with the activity or food for every minute or meal of the day, but they've come to understand that eventually we'll get around to what they really enjoy. We did implement a few things recognizing the wide range of food preferences, however. What we called a Sandwich Extravaganza is actually a way to provide a variety of options, for example, so that everyone finds something to eat without complaining. But, you can't do that for every meal. That's where "eat what you get and don't pitch a fit" comes into play. 🙂
Steve and I are 12 years older than when we started having Cousins Camp. Mercy! It's tougher than it used to be to make every step they make, to sleep less than normal, to stay mentally alert and constantly vigilant about everyone's safety and whereabouts. We love the week so much I'm sure we'll continue as long as possible, but we realize each year is a gift.
These cousins have truly become BEST FRIENDS. They love each other and have such fun together. We refer to Rosie, Penny, Megan and Birti as "the quadruplets." They create games of all kinds and are within a year and a half in ages. Maggie and Luke have amazingly similar likes and interests. They jive. Seth and Nathan are sports gurus and friendly competitors. They're fun to watch. Samuel, Bethany and Silas are siblings, but they are also great friends. In other words, all of the cousins genuinely look forward to being together — something that would never have happened if they'd only been in each other's presence for a few hours on Thanksgiving Day and at Christmas.
TV and technology were successfully put aside for the week. I'll confess that a couple of times it was tempting to turn on the TV to help everyone key down a bit and just "be," but we were determined to let things play out without it. Also, 5 of the cousins are frequently connected to cellphones and iPads. Those were banned for the week, too. As a result, there were more in-person conversations, much more creativity and probably more sleep at night. Plus, the parents were spared constant texts and interruptions, too. I took photos, made daily Facebook posts and sent short nightly texts to the parents to keep them informed. My own computer remained closed all week, though. Whoa. It made a difference, a good difference.
The most frequent adjective we heard during the week was "amazing." As in, "That tasted amazing!" "That place was amazing!" "That looks amazing!" Those are some mighty gratifying words for grandparents who try so hard to create a wonderful week for these grandchildren we love so much.
One of the biggest lifesavers was scheduling a cleaning crew for the Monday after camp ended. Somehow, that kept me from stressing so much over the inevitable messes. I knew it would get addressed . . . later. That will now become a camp tradition. 🙂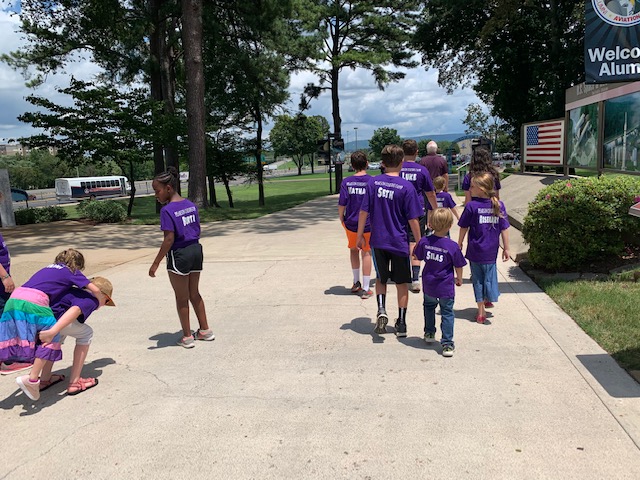 We anticipate 11 campers again next year, because Enoch is not quite 2 and Baby Beatrix is only 3 weeks old. By Christmas, we'll have the date firmed up and the van rented. Then, a theme will begin to take shape.
For now, though, we are so grateful to God for granting us another year without accidents or serious illnesses. We are happy that another layer of memories has been added and that the bonds between cousins and between us and our grandchildren have strengthened. It WAS "amazing."
If you're a grandparent or a grandparent-to-be, especially if your grands live some distance apart, let me urge you to think about your own version of getting the grands together in a deliberate way for the purpose of deepening relationships.
Psalm 103:17 – But from everlasting to everlasting the Lord's love is with those who fear him, and his righteousness with their children's children.
Proverbs 17:6 – Children's children are a crown to the aged, and parents are the pride of their children.
P.S. If you want to know more details about our daily activities, feel free to take a look at my Facebook posts from July 20-27.