On a recent Saturday, Steve and I found ourselves in Franklin, TN once again with 3 grands eager to get out and have some fun.  We decided to explore a place that was fairly familiar to them and completely new to us — The Factory.  It is self-described as "a one-of-a-kind retail and entertainment complex listed in the National Register of Historic Places and in near proximity to the nationally-recognized Main Street of Franklin, Tennessee."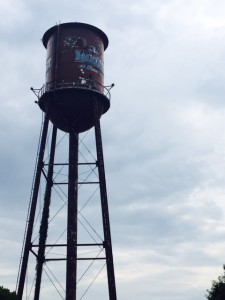 Two serendipitous meetings happened while we were there.  Well, at least I  (the former elementary teacher that I am who believes that "once a teacher, always a teacher") felt they were serendipitous.
We met Ronda Friend, a delightful author of children's books and musicals, who says that her "heart's desire is for children to fall in love with reading, writing & the fine arts."  She drew the kids in with her props and tall tales and even shared some costume items with them before they posed for this picture.  I bought 5 of her books – the Down on Friendly Acres series — to share with all the grands when they come for visits.  Each one teaches a moral lesson amid the funny antics of her characters.  Ronda and her husband live in Franklin, and she is available for school assembly programs. From what I observed, I believe she'd be a hit.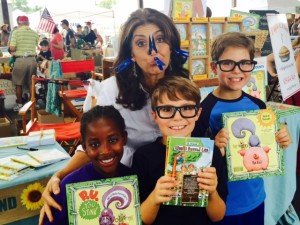 We continued our wanderings and met another very talented young woman — artist DeAnn Hebert — who was working in her studio at the time.  DeAnn has a gorgeous website where you can peruse the works she has for sale, read her story, and even take a pictorial tour of her lovely home.  She was very kind and approachable and had no problem posing for a picture with Birti and Luke.  DeAnn was recently commissioned by Willie Nelson to paint an old church.  See it here.  I would love to have one of her paintings in my own home.  Better start saving and looking around for the perfect spot.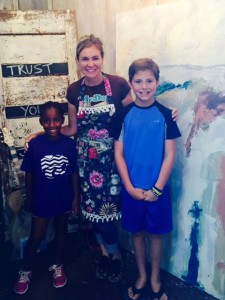 In my next blog, I'll share scenes from the Farmers' Market and make a lunch recommendation.  And, don't worry, Rome and Somerville grands.  Your turn is coming soon.  🙂