Steve and I have a rule. Whenever we are on the Gulf Coast — or ANY coast, for that matter — we order seafood. For us, this is not the time for pork chops, steaks, hamburgers or spaghetti. No. The coast is where you are most likely to get the very freshest seafood, and we both love it. Oysters, shrimp, scallops, crab, calimari, redfish, speckled trout, tuna, mahi mahi, flounder, red snapper, grouper — you name it, we'll eat it.
We've known all of our lives about the seafood on Alabama's Gulf Coast, but recently we had a chance to spend a few days further west, pretty much halfway between Pascagoula and New Orleans. We sampled the area restaurants of Hancock County, specifically in Bay St. Louis and Kiln (Brett Favre's hometown), and can testify that they are outstanding. Here are 4 that I'd like to recommend. Warning: These photos will make you LONG to be at the beach.
200 NORTH BEACH
200 North Beach was the first restaurant to open after Katrina all but wiped out Bay St. Louis. It is located across from the harbor in Old Town Bay Saint Louis and is housed in the restored Echo Building, which once produced the Echo Sea Coast Newspaper. You will see beaded boards and exposed beams that were carefully reclaimed from the storm's destruction, but most of all, you will taste the delectable creations of Chef Keith Becton and his staff.
Chef Becton was born on the island of Martinique and received his classical training as a chef in France. He previously worked in New Orleans, so the French Creole influence is prominent in his preparations and seasonings. By all means, save room for dessert. His White Chocolate Bread Pudding is fabulous!
200 North Beach is open for lunch and dinner seven days a week.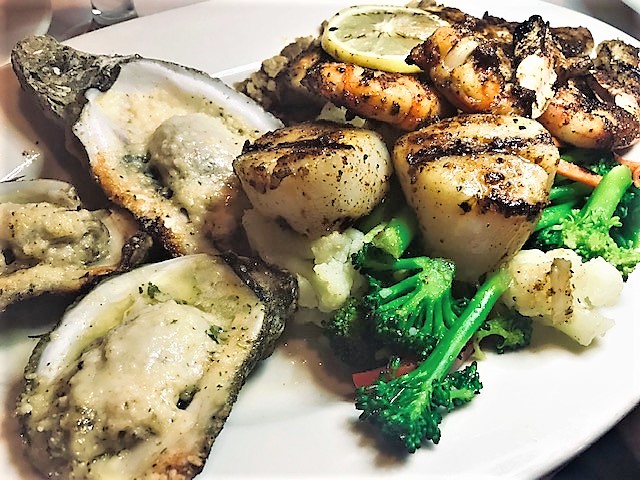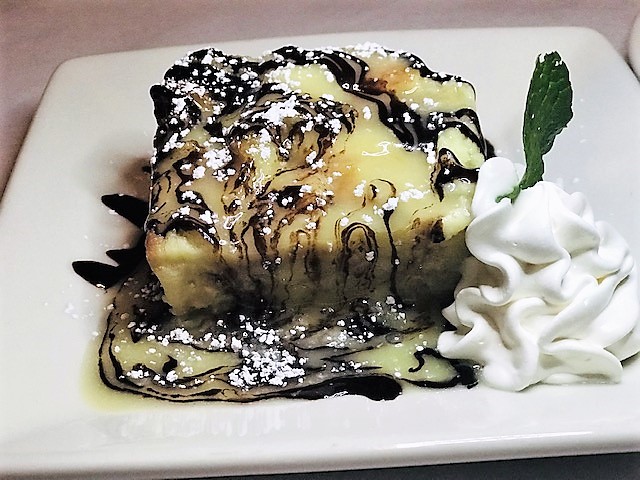 CUZ'S OLD TOWN OYSTER BAR AND GRILL
Cuz, whose real name is Melvin Barnes, used to own a seafood market and restaurant where he actually caught the fish himself, but not anymore. Cuz does, however, still know the best sources for his seafood. He's a colorful character whose life is surrounded by women — a wife, 5 daughters and "even a female dog." 🙂
We tried the fried seafood at Cuz's Old Town Oyster Bar and Grill and enjoyed the fact that the crust was very light. We've heard that his boiled seafood is great, so during a return visit, we'll give it a try. His bread pudding recipe follows a very specific rule — "I won't let them put raisins in it." We agree with you, Cuz.
Cuz's is open for lunch and dinner seven days a week.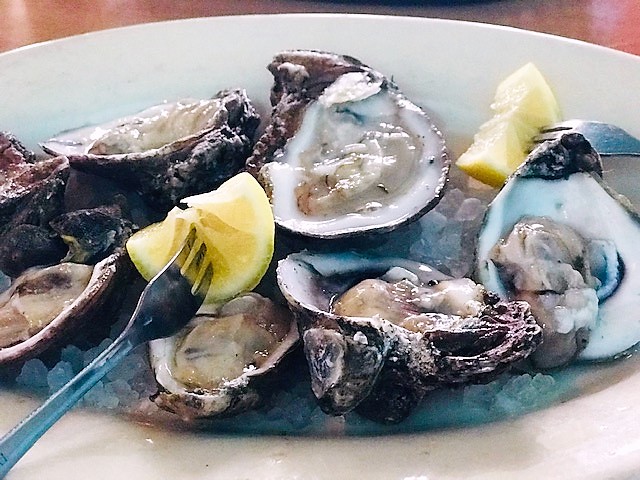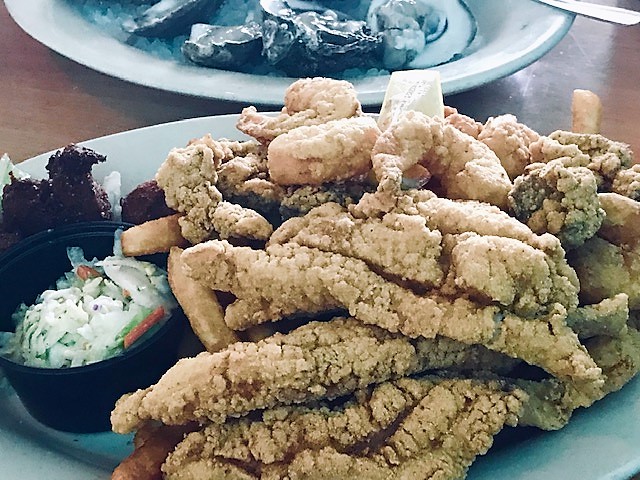 JOURDAN RIVER STEAMER
Jourdan River Steamer in Kiln, MS, is owned by Hank and Lori Plauche. Their current location is very new, because storms wiped away previous restaurants they've owned. This one is right along the river and is very high off the ground — according to flood plain and insurance requirements resulting from Katrina.
The menu is extremely unique in that it prominently features King, Dungeness and Snow Crab, Royal Red Shrimp and Live Maine Lobsters. According to Lori Plauche, the kitchen doesn't even HAVE a fryer, and the kitchen staff is referred to as the Steam Team.
Jourdan River Steamer is open for dinner Tuesday through Sunday.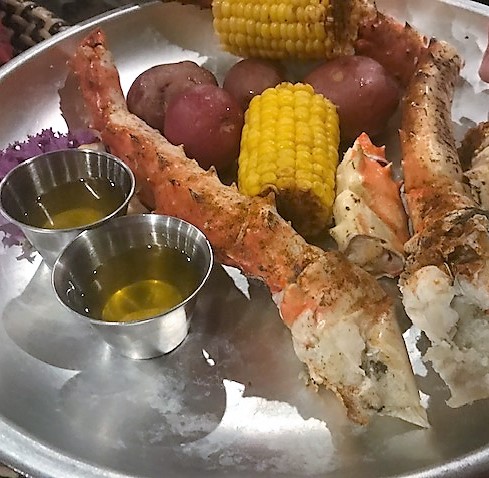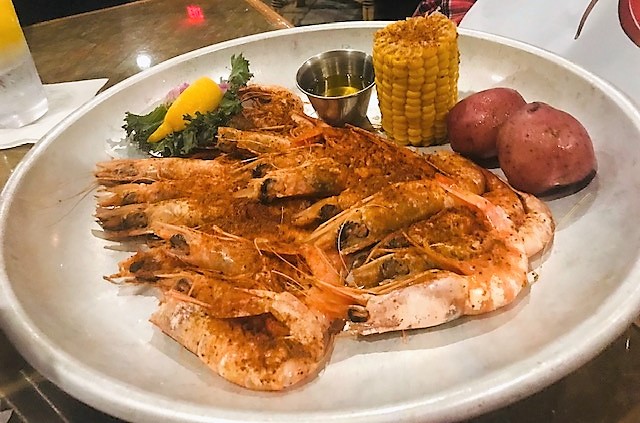 BOGART'S STEAKHOUSE
Bogart's is the fine dining restaurant inside Hollywood Casino in Bay St. Louis. Gambling and casinos are a reality on the Mississippi Gulf Coast. I don't gamble, but I do appreciate great food. And, yes, this post is about seafood, but Bogart's Steakhouse deserves to be included because in addition to its great steaks (which we had a chance to sample thanks to a fellow diner and LOVED), the seafood is outstanding as well.
I sampled ahi tuna, crabcakes, broiled scallops and loved the blackened redfish with crawfish risotto. All wonderful. Then the desserts — I had a taste of the cheesecake, the blonde brownie, bread pudding and creme brulee. It would be impossible to choose the best. I believe I need to go back and try them all again. 🙂
Bogart's is closed on Monday and Tuesday and open only for dinner Wednesday through Sunday.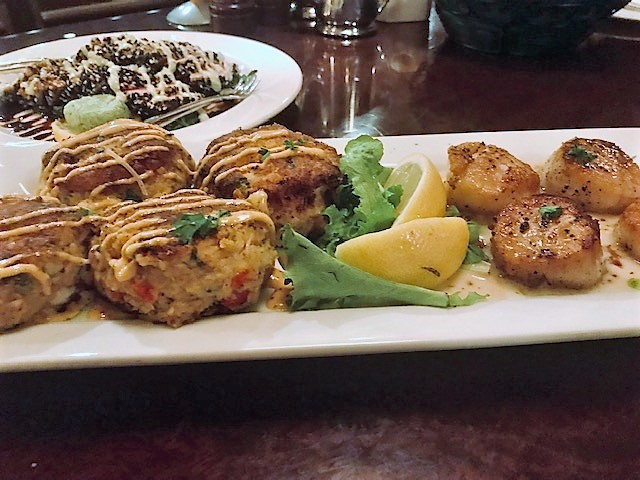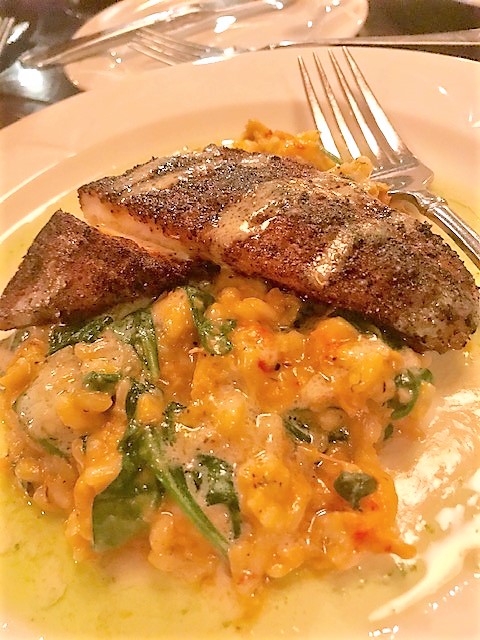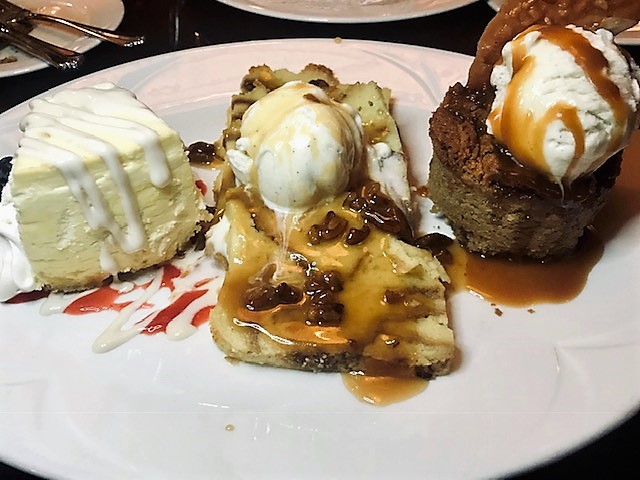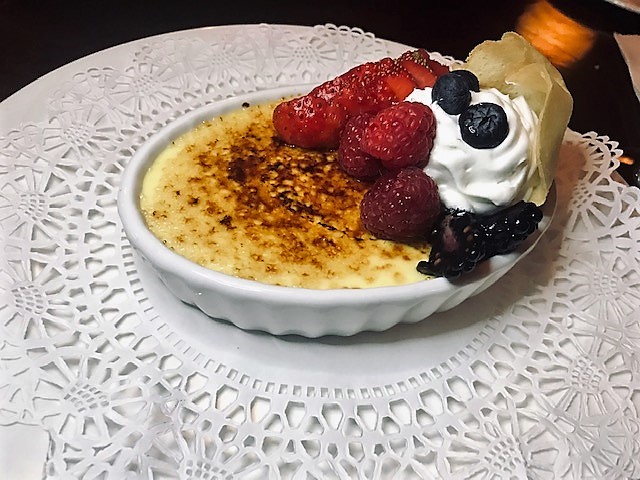 Two other eateries certainly deserve a mention here. Mockingbird Cafe is a great place for breakfast and lunch and is located near fun shops in Old Town Bay St. Louis. It is often referred to as "the Living Room of the Bay" and is a natural gathering spot for the locals. Mockingbird Cafe is open seven days a week but closes early on Sunday. Be sure to check the website.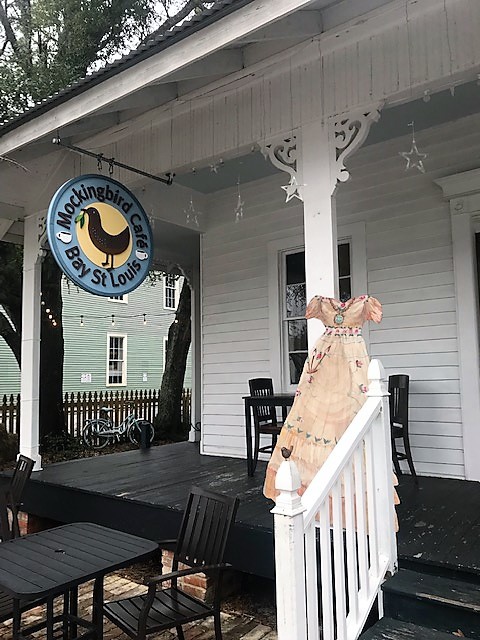 And, possibly the biggest surprise of our trip was the Jet Away Cafe inside Stennis International Airport. The gumbo I had for lunch was chocked full of goodness, and Steve had one of the biggest chef salads I've even seen. I'm only sorry that I was too busy watching all of the action at this unique airport and hearing about its history and functions to make photos. Trust me. It's a neat place to eat. Jet Away Cafe is closed on weekends but open Monday through Friday from 8:00 a.m. to 6:00 p.m.