I recently visited Cleveland and Canton, Ohio with a group of fellow travel writers. It was my first time in the area, but I am determined that it won't be my last. For my next visit, I WILL take some grandsons along. They'll have a ball!!
SPORTS, SPORTS AND MORE SPORTS! — Three major professional teams have their home stadiums in Cleveland, Ohio: Cleveland Browns (football), Cleveland Cavaliers (basketball) and Cleveland Indians (baseball). Those stadiums are in the same general vicinity, so much so that when I visited, I walked a few short blocks to Progressive Field for an Indians game and passed an excited horde of fans heading in the opposite direction to FirstEnergy Stadium for the Browns season opener. The Indians climbed to the top of their division and made it to the playoffs this year. The Browns fans stay loyal, in spite of lackluster records. They believe in their team. The Cavaliers said good-bye to Lebron James after winning the NBA championship but still love the Cavs and their chances to bring home more wins. 
Our boys would love going to a game, and the odds are good that we'd be able to schedule our trip to see one of these Cleveland teams for a home game.
2.  PURE FUN! — Cleveland has its own zoo, aquarium and science center, but a mere hour away from downtown Cleveland in Sandusky is Cedar Point Amusement Park, calling itself "The Roller Coaster Capital of the World." That says it all, doesn't it? Thrills-a-million!
For a bit of quirkiness, A Christmas Story House, site where much of the iconic Christmas movie was filmed, is open for tours. Since the movie first came out in 1983, perhaps a pre-trip viewing of the movie would be in order to whet our appetites. Popcorn, anyone?
3. LEARN ABOUT ROCK AND ROLL AND PRO FOOTBALL LEGENDS! The Rock and Roll Hall of Fame is on E. 9th Street in Cleveland and is one of the most popular attractions in the city. The interactive exhibits and memorabilia from famous singers are guaranteed to entertain the younger set, and maybe they will gain an appreciation for the music of their parents' and grandparents' days. The Beatles, Elvis, Aretha Franklin — every one you could name. This is a multi-sensory profusion.
An hour away in Canton, is the Pro Football Hall of Fame. Once again, the displays and exhibits are interactive and superbly done. My favorite display showcased the Super Bowl rings of various stars. Those bad boys are HUGE!! I can imagine the grandsons picking a favorite team and following the journey of its most famous athletes through the museum.
4. EAT GREAT FOOD! The first place that springs to mind is The Happy Dog at Euclid Tavern. Check out this impressive list of FIFTY, yes 50, different toppings you can order for your hamburger or hot dog.
The Greenhouse Tavern on E. 4th Street has an Ohio Beef Burger that would get 2 thumbs up from some hungry boys.
For breakfast, I would want to take them to Grumpy's Cafe one day and West Side Market Cafe the next. And, somewhere along the way, they would need to taste their first pierogi. THEN, they could feel that they had really walked in the shoes of true Clevelanders.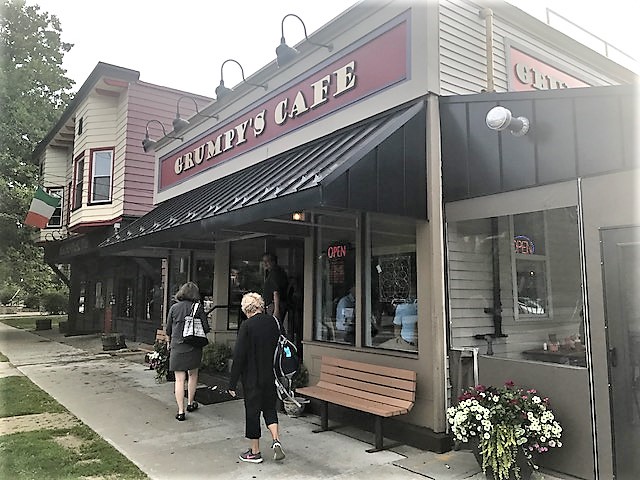 Yes, I know. Cleveland is probably NOT the best choice for a grandparents/grandchildren destination in the winter. But, for spring, summer and fall, it is bursting with ways to make amazing memories.
P.S. Never fear. There's a whole future post about great activities the grandDAUGHTERS will love as well. 🙂