Pancakes, trout, fritters and apple butter are the first food items to pop into my mind when I think about spending a few days in Gatlinburg, but the specifics of WHERE to consume those items is a key consideration, as well.
CROCKETT'S BREAKFAST CAMP
Crockett's Breakfast Camp right on the main drag (a.k.a. Parkway through town) in Gatlinburg was a must-try on my list during a recent visit. Judging from the line wound around the building, it was on many other people's list, too. Crockett's only opened 5 years ago, and this was my first visit. Obviously, they wowed people quickly.
The good news was that a parking lot for a mere $2.00 for 2 hours sits across the street from Crockett's. And another piece of good news is that you can call ahead or even sign up via email to get put on the waiting list. The bad news is that we didn't know about that until we were enduring an hour and 15-minute wait.
The very good news is that the food is WONDERFUL. This is where Steve and I got our "trout fix" while we were in the area. Breakfast of pecan-crusted trout, scrambled eggs, grits, sausage gravy, hashbrowns and a thick, fluffy biscuit arrived in a black skillet with a side dish loaded with corn pone — possibly the best I've ever eaten.
I highly recommend Crockett's. Just take my advice and put your name on the list before you arrive. And, by the way, it closes at 1:00 p.m. — strictly a breakfast-brunch place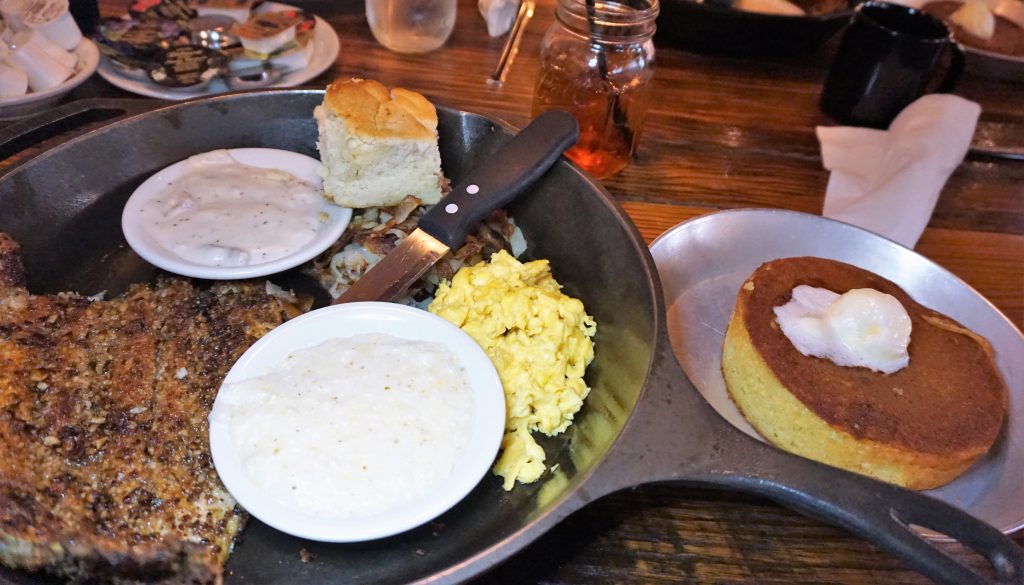 APPLEWOOD FARMHOUSE RESTAURANT
Apple fritters generously dusted with confectioner's sugar and a side of apple butter start every meal, along with a small glass of Applewood Julep (a refreshing juice concoction). A cup of hot soup and mashed potatoes come with every entree, and the choices are typical Southern specialties, such as meat loaf, turkey and dressing, chicken and dumplings, chicken pot pie and the like. Portions are very generous, too.
In the past, we've always arrived along with hundreds of other hungry diners, and once we got our name on the list, we could wander around the big Apple Barn and other shops on the premises. This time — in mid-February — we walked right in and were seated immediately. The food was good, but somehow, I missed the crowds and the Apple Barn was closed when we visited. Bummer. I would have been sorely tempted to bring a few jars of their apple butter home with me.
Both Applewood Farmhouse Restaurant and Applewood Farmhouse Grill are on the property. I suggest you go to the one with the shortest wait time. The menus for each appear to be interchangeable.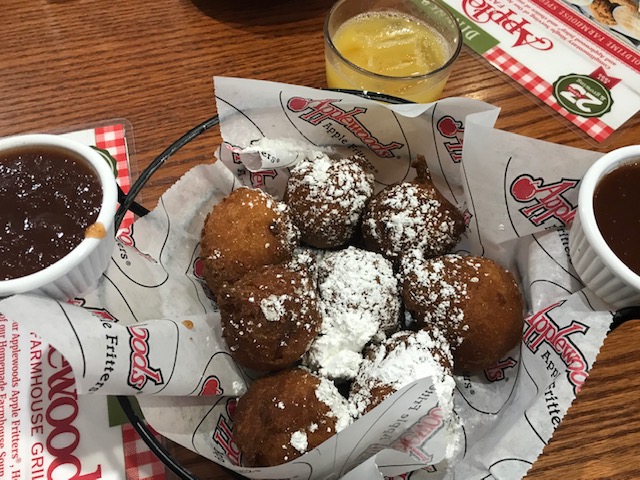 THE OLD MILL in Pigeon Forge
In terms of just pure deliciousness, this is probably my very favorite. We arrived about 12:30 p.m. and had a 40-minute wait, but the nearby shops were open, and the weather was nice. All the better to get our appetites fully stirred.
Corn fritters with maple butter and a cup of hot chowder start the meal at The Old Mill. The service was great, and the food was everything we expected. Oh yes, the pecan pie is to-die-for. I confess that I brought home a package of fixings for more of the corn chowder and some jalapeno cornbread mix and chow-chow for a cozy supper in the near future. The Old Mill will remain on my MUST LIST.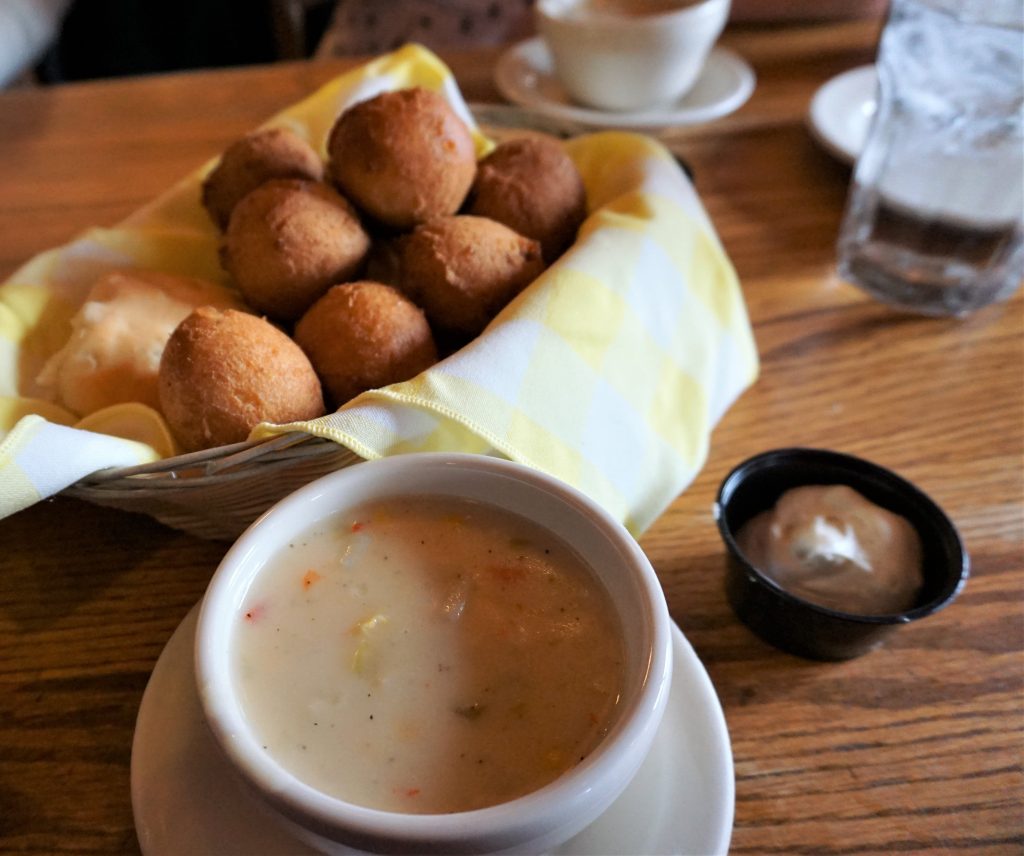 PANCAKE PANTRY
The line is ALWAYS down the sidewalk at the Pancake Pantry. They don't take reservations, so you just know that unless you "hit it just right," you're going to have to wait. The variety of pancakes, hoecakes and crepes is dizzying, but there is bound to be something for everyone.
I ordered Austrian Apple Walnut Crepes, Allie had Swiss chocolate chip pancakes and Steve (Mr. Healthy) had the Whole Wheat pancakes. Service was quick and friendly, and the food was good.
I just have a couple of gripes to share. We had to pay $10.00 to park nearby, and Pancake Pantry only accepts cash. Yes, CASH! Who carries cash these days? Yes, they have a handy-dandy ATM machine inside, but that tacks on a $3.00 fee. Moral of the story? Be prepared.
The Pancake Pantry opened in 1960 and was the very FIRST pancake house in Gatlinburg. It has worked hard to become such a popular destination. But, I will probably try one of the other MANY pancake cafes that are scattered around now when I return. All of the ones I saw had large FREE parking lots, and I'm fairly certain they take credit cards.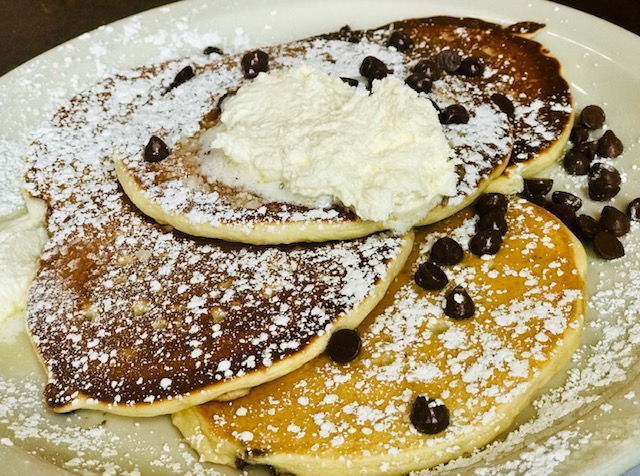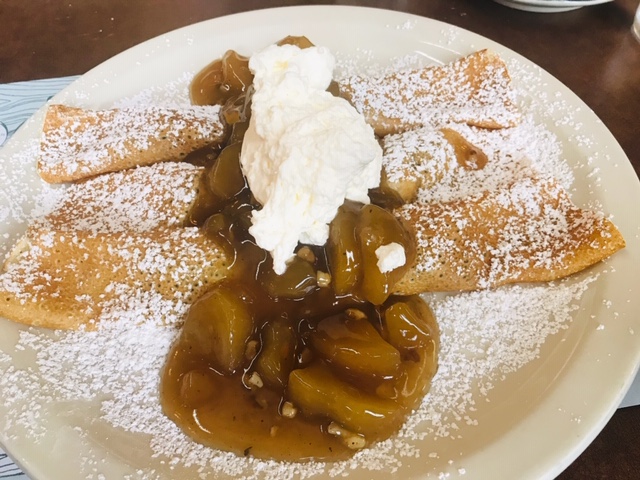 So those were on my list last weekend. Our granddaughter Allie was with us, and all of the places were new to her. Without any prompting from me, she proclaimed The Old Mill as her favorite on our way home.
What about you? Which restaurants are always on your radar and considered worth the wait for you when you visit Gatlinburg?