When you're 68 years old and you have a Travel Bucket List, it's high time to start marking items off that list. Or, at least, that's my reason, and I'm sticking to it. On three previous trips to New York City, I stayed in very nice hotels, but this time, if it was at all possible, I wanted to stay at the most iconic address in the city. It was worth every penny (ahem, dollar). I absolutely loved it, and here are 5 reasons why.
STORIED HISTORY
When The Plaza opened for business at 9:00 a.m. on October 1, 1907, Alfred G. Vanderbilt was the first to sign the guest list. He died in 1915 on board the Lusitania, when the Germans hit it with a torpedo.
Famous guests who have stayed (some even lived) there include: The Duke and Duchess of Windsor in 1946, Frank Lloyd Wright, Truman Capote, F. Scott Fitzgerald, Marilyn Monroe, John Lennon and Yoko Ono and hundreds of others.
Julie Nixon married David Eisenhower there on December 22, 1968.
The New York Yankees had their celebration party there a few hours after winning the World Series in 2000.
Donald Trump owned The Plaza for a few years starting in 1988, calling it "a masterpiece."
Glimpses of the hotel's lobby and guestrooms can be found in numerous movies, with Home Alone 2: Lost in New York being the most recent, where it was featured in many scenes.
The Plaza was designated as a National Historic Landmark in 1986, for its lavish architecture. And I can assure you, the building deserves that recognition.
SINGULAR VIBE
From the crisply-uniformed doormen, reception clerks and discreetly-placed security guards to the gold-plated entrance doors, spectacular chandeliers, floral arrangements and even the aroma, you know you've walked into a special place.
Several times we got on the elevator with tall, chiseled-cheekboned models wearing exquisite fashions and speaking to their companions in Italian, Portuguese or French (or so it seemed). It would have been easy to feel like hayseeds from Alabama, as in "the Pearsons, i.e. Clampetts, go to New York," but we didn't. I'm sure there were famous people at the hotel while we were there, but we were treated just as exceptionally as all the guests.
The level of service is a source of pride instilled in the staff, and they take their roles seriously. Each guest is assigned a butler, for example. You don't go traipsing down the hall to an ice machine with your plastic bucket. You alert the staff, and the ice is brought to your room — silver bucket, silver tongs and all.
When we were escorted to our room, a personalized note of greeting was waiting, along with a tray of colorful macarons. Nice touch. Very nice.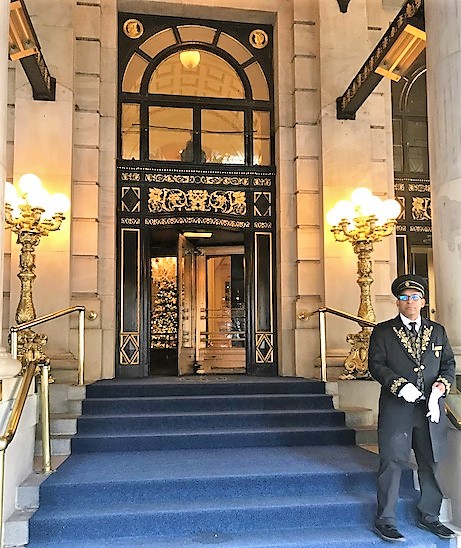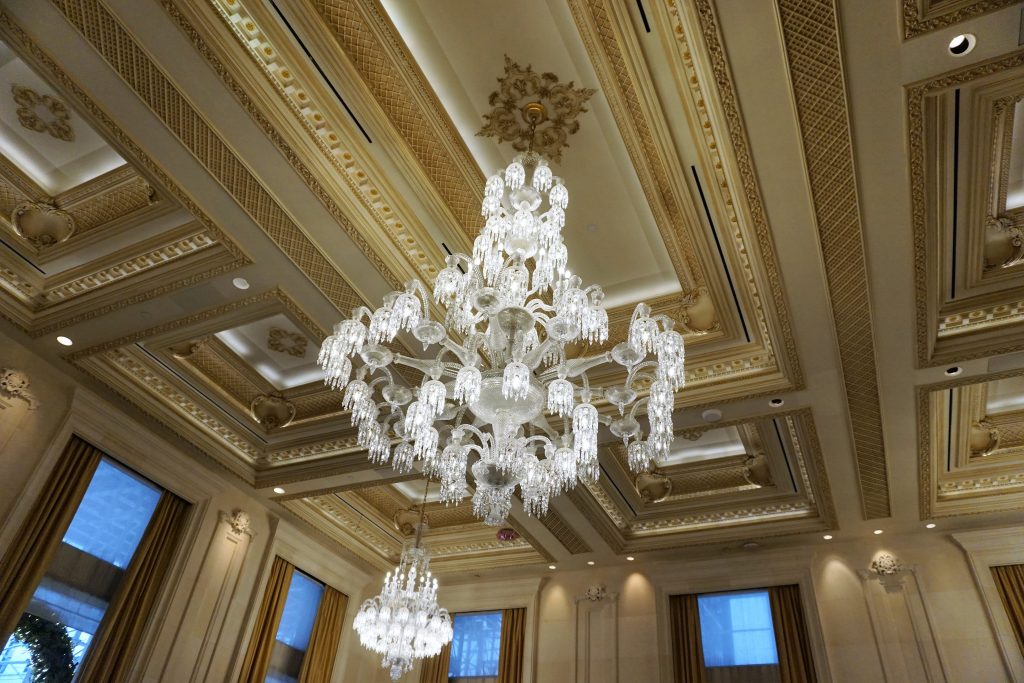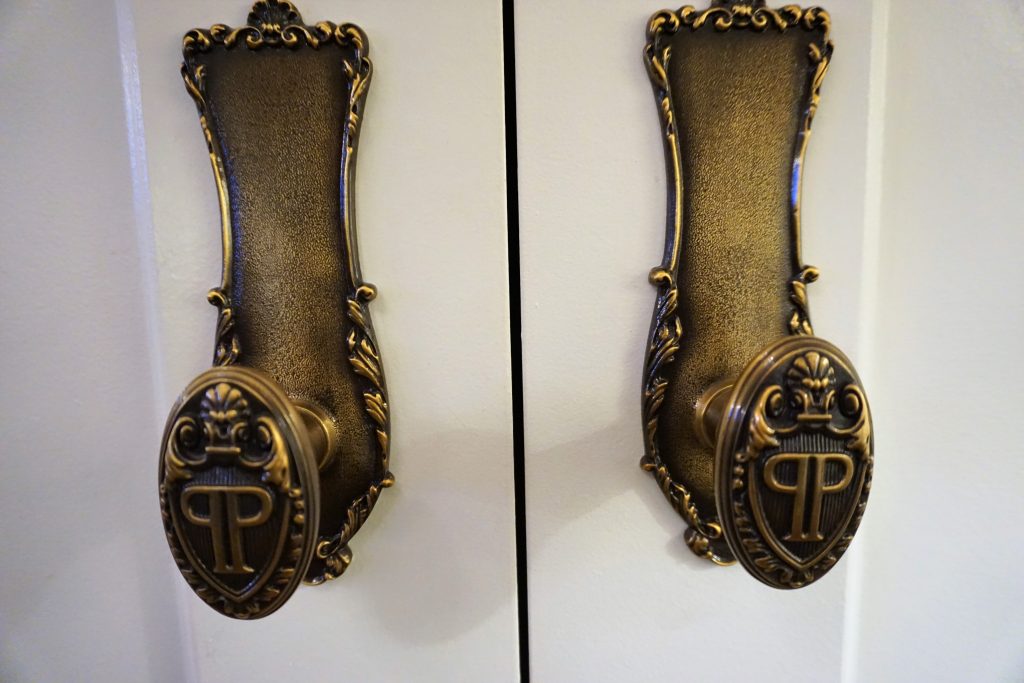 LUXURIOUS AMENITIES
The gold theme, along with crystal chandeliers, ornate tilework, elegant furniture and plushness carries over into even the most basic guest rooms. (In other words, we did NOT reserve a suite. There has to be a limit, you know).
Plush bathrobes and slippers, deluxe toiletries, a fully-stocked snack bar, a safe for your valuables (who, pray tell, travels with valuables?), huge bathroom with soaking tub, separate shower, separate toilet room, amazing linens on the bed. Wow.
And there was an iPad on the desk. Hmmm. An iPad. As it turns out, iPads were introduced by Apple in 2010, and The Plaza was the first hotel in the world to install these iPads in their guest rooms. With this iPad, guests can control the lights or the room temperature, order room service, request ice, a newspaper or a shoeshine from the butler, find out information about the area, and on and on. Another wow.
When the hotel first opened, it had 805 rooms. But, in 2008, it was renovated and now houses 282 guest rooms and suites, 152 condos, and an underground mall with retail shops and a fabulous food hall with specialities of many kinds. We loved strolling through, eyeing the various options for a casual dinner. We decided on crepes, made to order right in front of us.
Breakfast and Afternoon Tea in the Palm Court were both fabulous. Wonderful food. Impeccable service.
When I looked out our windows, I noticed several rooms on other floors with Christmas trees in them. I learned later that "for a small fee" you could order a fully-decorated Christmas tree to be in your room upon your arrival. Triple wow.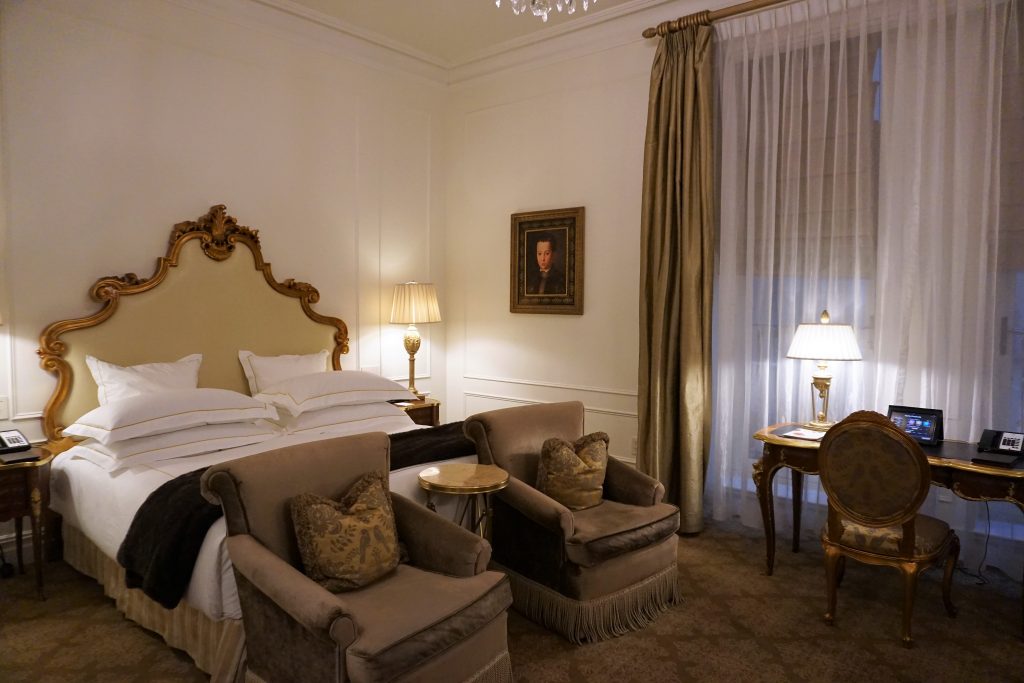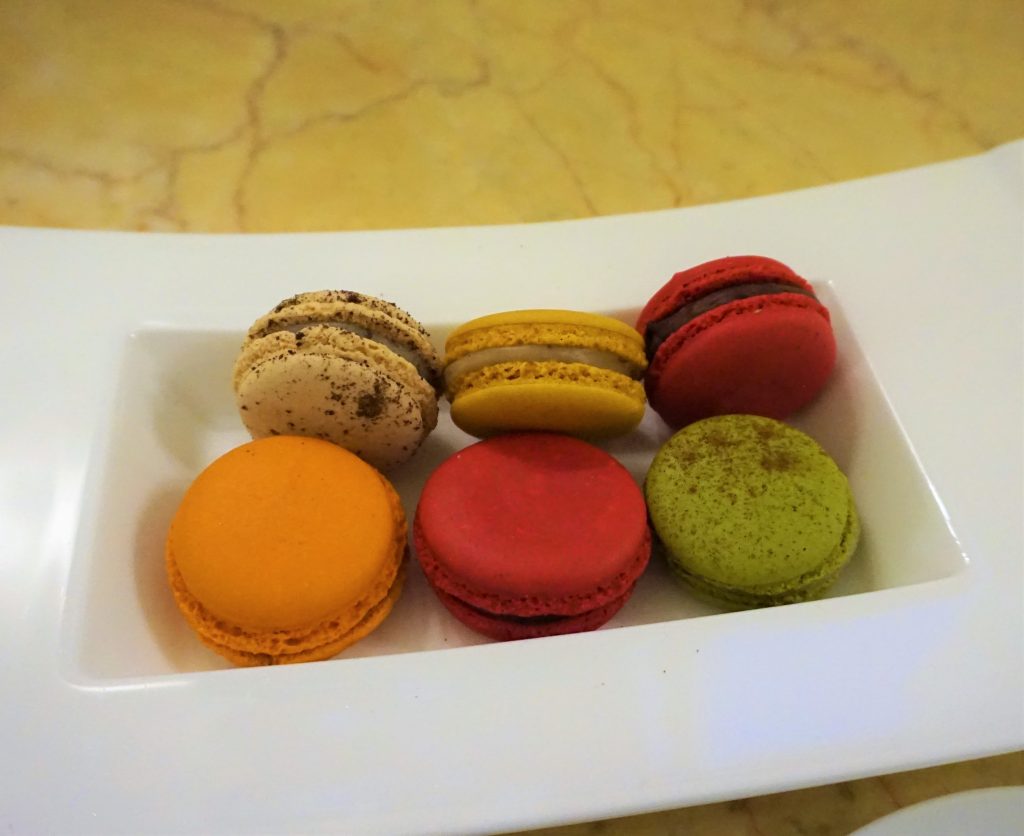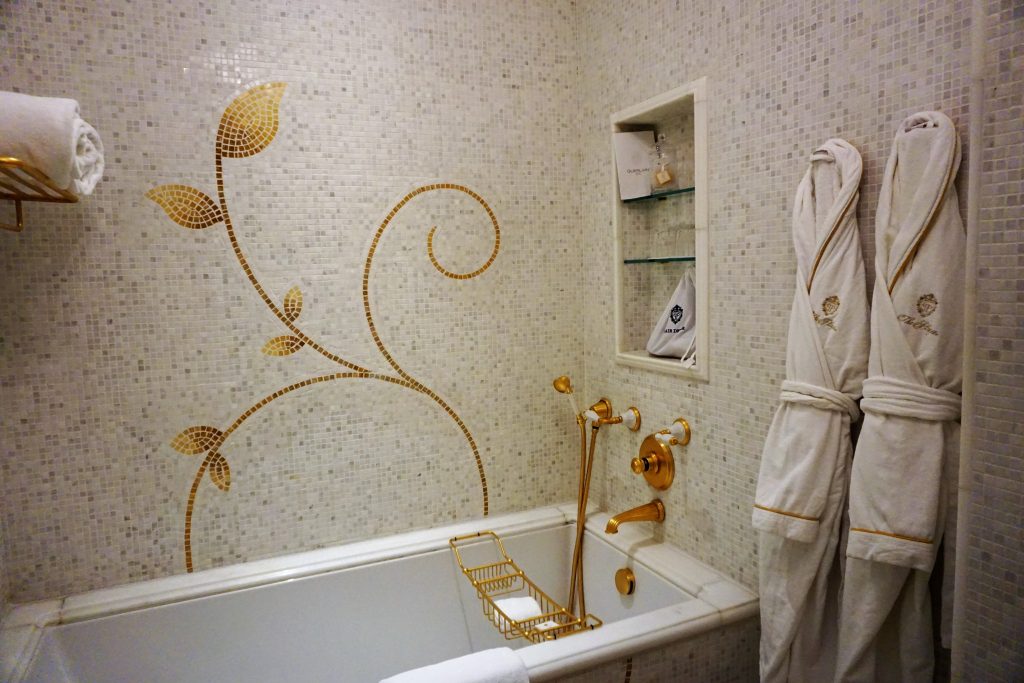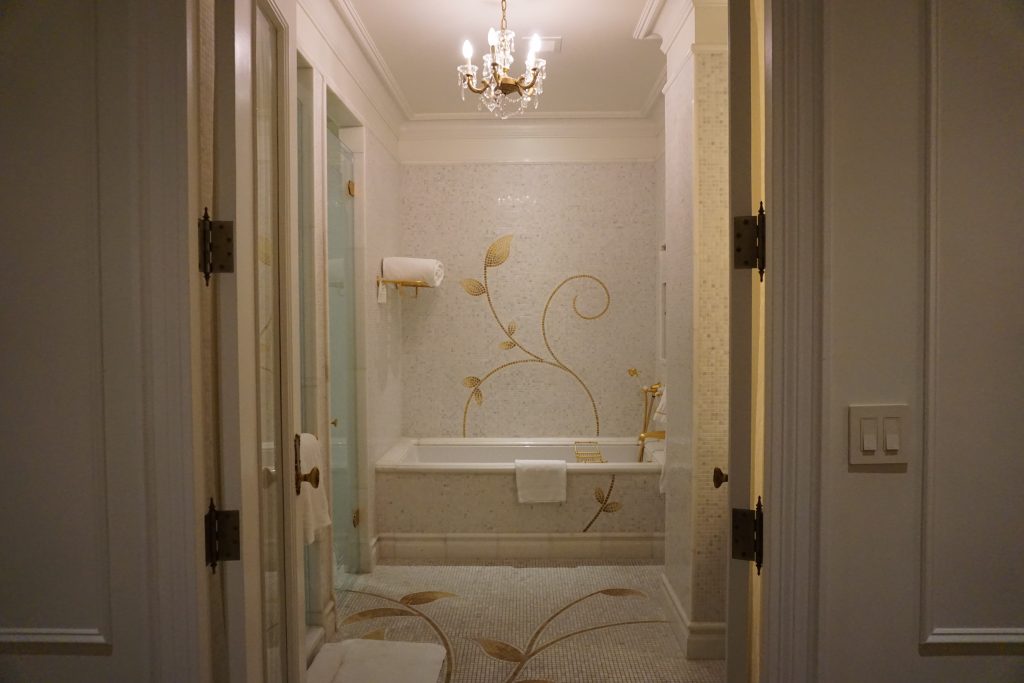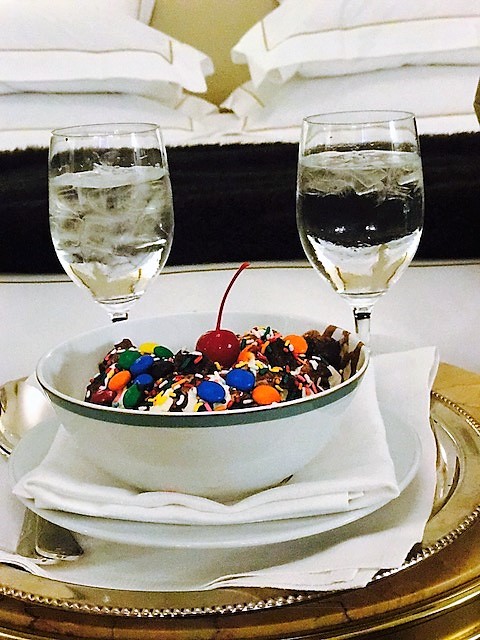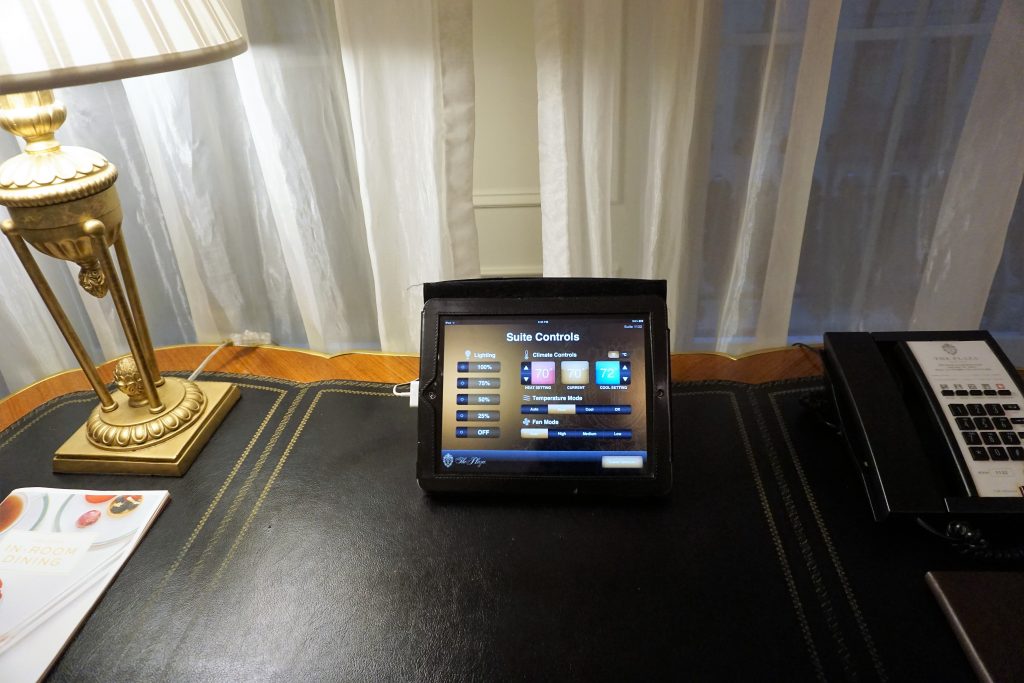 OUTSTANDING LOCATION
If you want to have the iconic NYC experience, it would be hard to beat the location of Central Park South at 5th Avenue and Grand Army Plaza. Just cross the street and you can enter Central Park, a wonderful place for a stroll or jog. Three blocks away you'll find Time Warner Center at Columbus Circle. It's an upscale shopping mall with a Whole Foods on the bottom floor, great for picking up a quick, inexpensive lunch. By the way, Columbus Circle is the location for one of the best outdoor holiday markets in New York City, most of them open from Thanksgiving weekend until Christmas Eve. A very convenient subway station is also located at Columbus Circle.
But, speaking of upscale, step outside the door and you're practically at the entrance to Bergdorf-Goodman, then cross the street and make your way down 5th Avenue, probably the most recognizable retail hub in the world. Take your pick of Gucci, Cartier, Louis Vuitton, Saks Fifth Avenue or Tiffany's, to name a few. By continuing only a few blocks, you'll reach Rockefeller Center with all of its attractions, including the newly-opened F.A.O. Schwartz Toy Store. Radio City Music Hall is within sight of the toy store.
For a visit to NYC at Christmastime, it would be hard to find a better location. But, actually, with the subway so near, you can reach pretty much anywhere from The Plaza.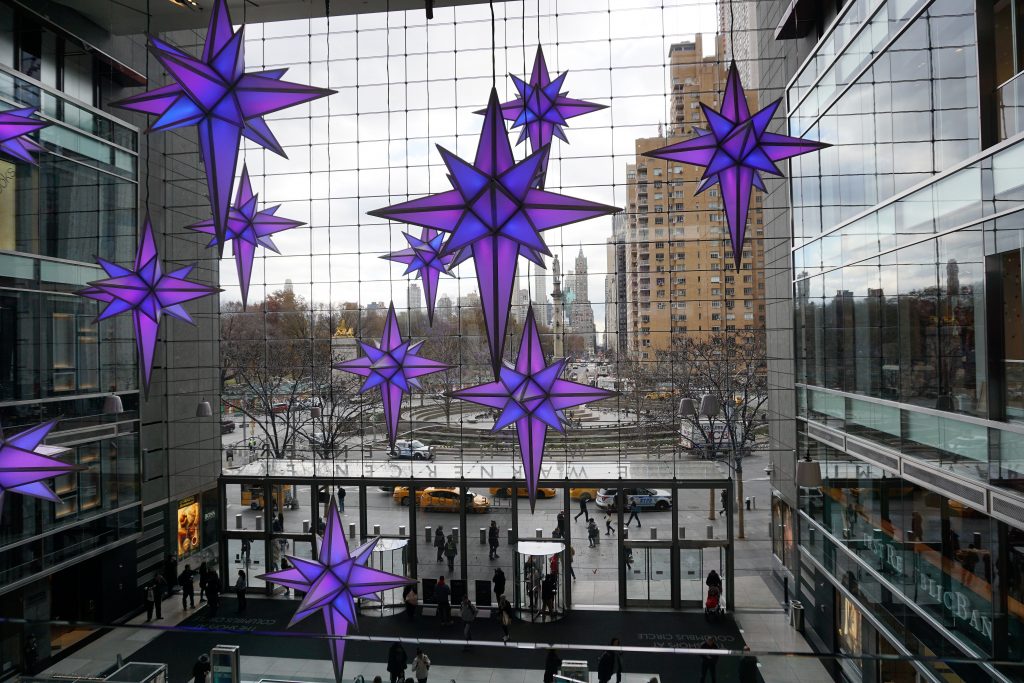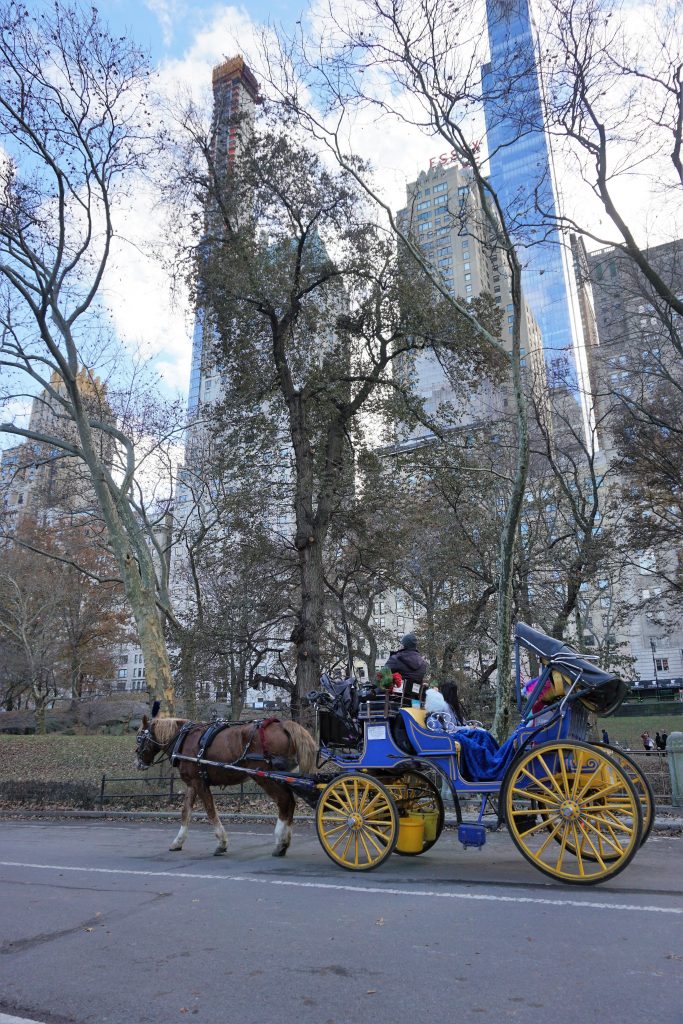 THE INFLUENCE OF "ELOISE"
The children's book Eloise at the Plaza by Kay Thompson was published in 1955. It tells the story of a very rich, but also very mischievous little girl who actually LIVES at the Plaza, is well-known to the staff, and who causes all kinds of "situations."
Many Eloise-themed souvenirs, clothes and decor items have sprung from the book, and there is a popular store in the underground mall which sells this merchandise.
The very popular Afternoon Tea at the Plaza includes a menu specifically for little girls. In fact, there is a full schedule of activities wrapped around the character of Eloise that girls and their mothers can enjoy year-round. See the link here. There is even an Eloise Suite which can be reserved for an overnight stay. Be sure you like pink. A lot of pink. In a few months, we will welcome our EIGHTH granddaughter into the family. Wouldn't it be fun to take them all to NYC for a tea party? . . . . If I didn't have to PAY for it. 🙂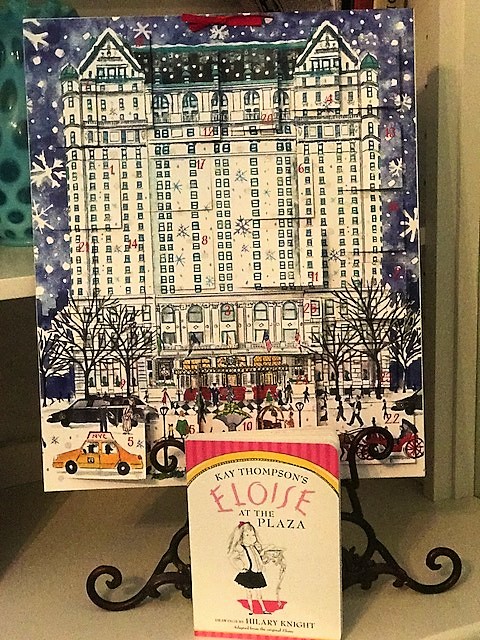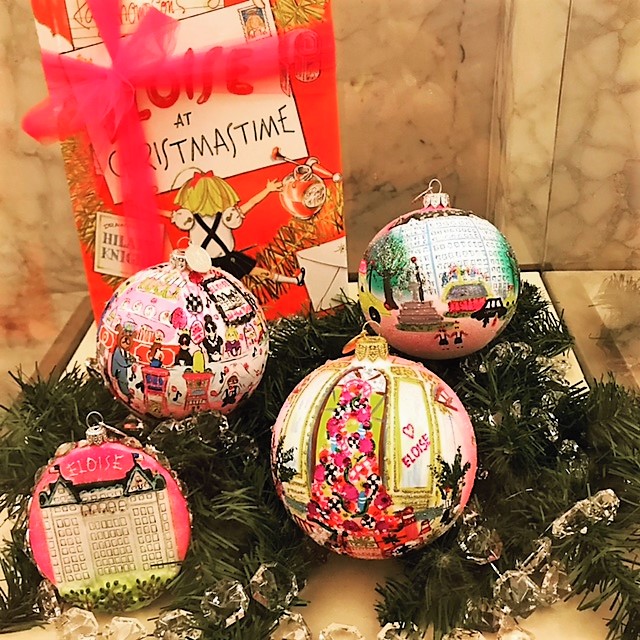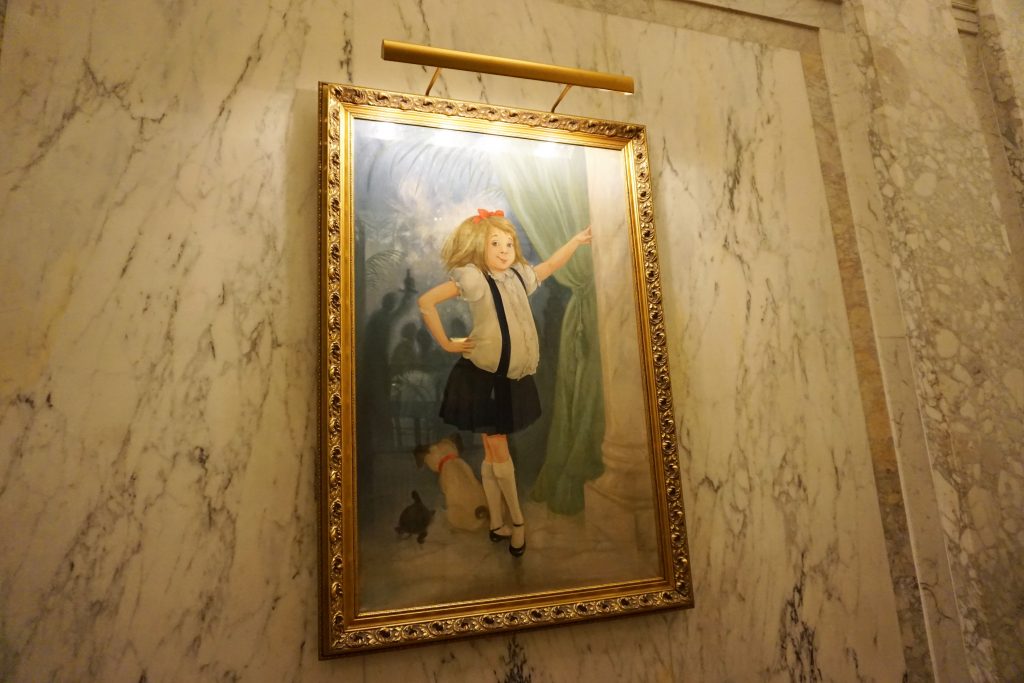 THOUGHTS
It's not cheap, but I'm so glad we got to stay there for a couple of nights. To me, it was definitely worth the splurge, and I would eagerly anticipate a return visit — once I get more items marked off my Bucket List.
For a few more details, click here to see this article I wrote for Trip101.com.