My best new discovery during our most recent trip to the Alabama Gulf Coast was BuzzCatz Coffee and Sweets at 25689 Canal Road, next to Cosmo's. If you are a frequent visitor to the area, you have probably already enjoyed the other restaurants owned by Brian and Jodi Harsany — Cosmo's Restaurant and Bar, opened in 2006, Cobalt Restaurant, 2008, and Luna's Eat and Drink, which opened in 2016 about the same time as BuzzCatz.
Cosmo's, Luna's (both named for rescue pets owned by the Harsanys) and Cobalt all open at 11:00 a.m. seven days a week and stay open until 9:30 p.m, except on Friday and Saturday when they extend their hours until 10:00 p.m.  So, it became obvious that a need for breakfast, coffee and sweets was waiting to be filled. Harsany wrestled with the name until he walked into the new place under construction complaining about feeling "buzzed" because of all the coffees he'd been sampling. As before, he wanted a cat theme in recognition of his love for 4-legged critters. Thus, BuzzCatz was christened.
I learned about BuzzCatz when I was doing research for Edible Lower Alabama before going to the World Food Championships in November. I was looking for chefs who would be competing from Edible's coverage area of Montgomery to Mobile and the Alabama Gulf Coast. I found out Juanita Hendrix, who is the manager and assistant pastry chef at BuzzCatz, would be competing in the Bacon category. Chef Kimberly Asbury, head pastry chef at BuzzCatz, served as her Sous Chef in the competition.
Breakfast is served every morning at BuzzCatz from 7:00 to 11:00 a.m. Every morning has a different theme in terms of its daily special: Flap Jack Monday, Tortilla Tuesday, Waffle Wednesday, EGGstraordinary Thursday, French Toast Friday, Saturday Classic, and (woohoo, woohoo) Cinnamon Roll Sunday.  And, we "just happened" to visit on a Sunday morning. For that particular special, you can have your favorite breakfast sandwich inside of a warm yeasty cinnamon roll. Oh yes! Steve had a blueberry biscuit, and we shared BuzzCatz's version of Scotch eggs topped with Red Onion Jam.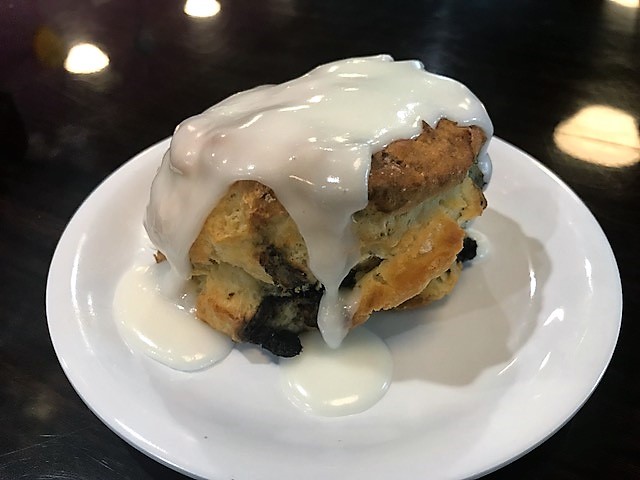 Red Onion Jam is made in-house every Saturday and Sunday. Juanita shared the recipe, and it was published last week here for Edible Lower Alabama. 
The structured dish required by all contestants in the Bacon category at WFC 2017 was Quiche Lorraine. Here is the recipe concocted by Juanita and Kimberly for that competition.
Light lunches of wraps, salads and quiche are served to the lunch crowd, then the rest of the hours of operation are devoted to pastries and sweet delights of all kinds.  And, don't forget the coffee. It is roasted in nearby Fairhope where a signature blend has been created especially for BuzzCatz.  Steve, the coffee drinker in our marriage, declared it to be exceptionally good.
I highly recommend this little out-of-the-way place. It is clean, attractively decorated, and the food is exceptional.
Disclosure: I received a complimentary meal to facilitate this review. Just remember that I only recommend places I like and believe you would enjoy. Period. 🙂
P.S. Let me just give a quick shout-out to Priester's Pecans which you will pass as you travel south to Orange Beach on I-65. Take Exit 142, and it is within sight. Here are just a few photos to remind you that you probably DO need to stop and pick up a bag from their latest crop — just in time for holiday baking.