Yes, from what I hear, Disney World is a fabulous place to take children and is, in fact, a dream destination for many grandparents and their grandchildren.  If you have a manageable number of grandchildren and plenty of money, then, by all means ENJOY, ENJOY, ENJOY!!!  But, what if you have TWELVE grandchildren??  That changes the scenario exponentially, don't you think?  Or, let's say that you have a long weekend or a week with multiple grandchildren coming to visit and no parents to help.  THEN, what are your options for entertainment in the North Alabama area?
My Silver Fox and I have hosted a Cousins Camp for our (potty-trained) grandchildren the past 8 years.  The first year we only had 2 grands and spent a few days in Gatlinburg, just experimenting with this whole Cousins Camp idea.  The 2nd year we bought a travel trailer and took 3 grands to the beach.  The next year we sold the camper and were building a house, so we spent a week with 5 grands in a cabin at Joe Wheeler.  The next two years we hosted 7 grands, followed by two more years with 9 grands, and just a week ago, we were up to 10 grands for a week.  All of those numbers have a great impact on what you can/should do and what you cannot/should not try to do.  The following is a list of places and activities that have made it to our Clipboard of Fun in the past three years.  I am including websites, when available, for those who want to do additional research.
1. River City Lanes in Decatur — The kids (ages 4-14) LOVE bowling, and I believe it will become a Cousins Camp tradition.  Last year we unwittingly made a group reservation and paid way too much.  This year we learned about a summer bowling promotion where you can sign up and only pay for renting the shoes.  All 10 of the kids bowled 2 games for under $40.  A bargain in our opinion.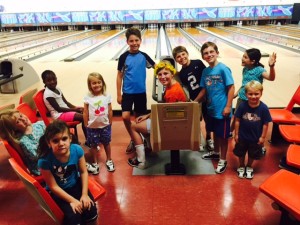 2. Regal Cinemas and their Summer Movie Express.  Hurray!  All 12 of us for only $12.  Yes!  We have taken advantage of this great deal for several years now.  There are usually good deals on popcorn and drinks, too.
3. Funland Mini-Golf, 401 14th St. S.E., Decatur, AL, 35601.  We tried this for the very first time this year, and I suspect it, too, will become a tradition.
4. Athens Lions Club Kiddie Carnival.  Read about it here.  This is a hit with many grandparents and grandchildren, but truthfully, we just have too many kids at too many ages/stages and not enough grown-up hands for this particular activity.  However, I do recommend it.
5.  Hartselle Aquatic Center.  Hartselle opened their beautiful new facility last year, and it is wonderful.  We especially appreciate the trained lifeguard staff.  There's a large kiddie pool area, water slides, a diving board, a snack bar, and plenty of places for adults to "relax and watch."
6.  Spring Valley Beach.  This place is located about an hour south of Huntsville, so it's quite a trek from Athens.  We went there 2 different summers and thoroughly enjoyed it.
7.  Nashville Shores.  About a 2-hour drive from Athens.  The main reason to consider this place would be in conjunction with other Nashville or Franklin places that you want to visit.  It's nice and has plenty of different components, but probably not worth the long drive unless you are already heading in that direction.  Consider the ages of your grands and whether you have enough watchful eyes available.
8. Aquarium Restaurant at Opry Mills in Nashville.  This would be a fun place to eat IF you are going to Nashville.  It has a kid-friendly menu and the aquarium is HUGE.
9.  Birmingham Zoo.  Again, this is a pretty good drive away, and, of course, there is also a nice zoo in Nashville.  Both are well-maintained.  Just consider the needs and interests of the children involved when you are deciding about the investment of time getting there and back.
10.  Harmony Park Safari, Huntsville, AL.  This place is a LOT of fun.  It is a drive-through type of zoo.  The animals roam free, and they come right up to your car/van as you very slowly drive the trails.  Each carload is given several cups of appropriate feed, and the animals will eat it right out of the children's hands.  Quite a thrill.  Bathrooms there are very primitive — just a word of caution.
11. Cook's Pest Control Museum in Decatur, AL.  It's FREE!!!  It is also very well-done.  Cook's is in the process of building a large new museum that will open in 2017.  We will certainly want to include it in our Clipboard of Fun for that year.  Our grands liked it a lot.
12. Alabama Space and Rocket Center, Huntsville, AL.  Our crowd loved this!  Consider including an IMAX movie if you go.  There are plenty of interactive games and a few rides for all ages.  The price is pretty steep, but the Center does offer a Grandparents Discount, plus you can obtain 20% discount coupons from the Huntsville Convention and Visitors Center if you plan ahead.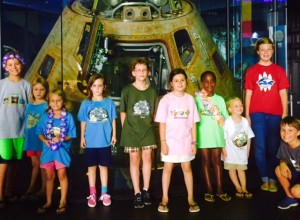 13. A wagon ride through the Amish community in Eldridge, TN.  My husband and I wanted to expose our grandchildren to another culture and way of life this year, and Eldridge, TN is only about an hour's drive from our house.  As preparation, I read to them a children's book by Beverly Lewis called Just Plain Fancy, and we talked about what they would be seeing and some of the Amish customs and beliefs.  We bought baked goods and vegetables from the Amish people at several of the homes where we stopped, and I believe it made an impression on our grandchildren.  At least, it made them think.  You might want to look back at a post I wrote about this place several weeks ago.
14.  Do your grandchildren enjoy art and painting?  Why not make arrangements with either The Broken Brush in downtown Athens or Coffee and Canvas on Hwy 72 in Rogersville?  Both places offer group sessions and provide all of the materials.
Now, where are some kid-friendly places to take your grands to EAT?  Well, that's a post for another day.  🙂  The point is that God has blessed us with these wonderful young people in our lives.  Let's make the most of the times when it's still "cool" for them to be with their grandparents.  Amen?