I have been a faithful reader of Southern Living Magazine since AT LEAST the mid-1980's and probably longer. When my children were young, I can remember drooling and dreaming about one day visiting the plantations along the Great River Road between New Orleans and Baton Rouge, Louisiana. I am a card-carrying, VIRGIN mint julep and sweet tea drinking, Southern belle – at least in my own mind. When I was about 12, I even talked my Momma into buying me a huge hooped skirt evening gown to wear for my upcoming GA coronation and end-of-year piano recital. She never once said, "You might want to really think this through," because she could tell I had fallen in love with that dress.  Are you getting this mental picture? I knelt down to be "crowned" on the stage at church.  What happened? That dress billowed forth all around me, and I was swallowed up in white tulle and fake pink roses.  Then came the recital.  I walked out to play my piece, sat on the bench, and there wasn't enough room for all that dress to land. My hands ended up a very uncomfortable distance from the actual keyboard, and who knew if my foot ever found the pedal??!!! Let's just say that I learned my lesson about Southern belles and their dresses.
But, I digress. Back to the plantations.
Recently, two factors converged. 1) My Silver Fox and I were celebrating our 45th wedding anniversary, which is a time I can normally convince him that we need to do something special. And 2) I have become a travel writer. Sounded like a PERFECT time to finally see those plantations.  He agreed.  We threw in a Swamp Tour for manliness purposes, and started making our plans. We had a Sunday night to Saturday morning time frame and wanted to cover as much territory as possible.  In that period, we spent a night in the French Quarter of New Orleans, toured 10 plantations, visited 2 museums, ate AMAZING food, and spent the night in 2 hotels, in one bed and breakfast and on the grounds of 3 plantations.  Oh the towering live oak trees! Oh the graceful Spanish moss! Oh my goodness, the many versions of bread pudding!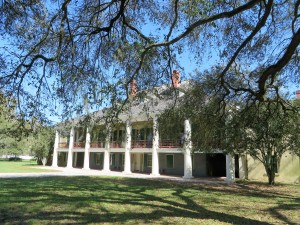 On our first full day, we drove north out of New Orleans and arrived at Destrehan Plantation in time for a 9:30 a.m. tour. Barbara Fair was our guide that day, and our education of life along in the Mississippi River in the late 1700's and all of the 1800's began.
We heard the story of Jean Noel Destrehan, his wife Marie Celeste and their 14 children, and explored the architecture of the house that took 3 years to build and was all done by hand using materials found on the property.  We learned about Essex, the valuable slave who was a barrel-maker, and Marguerite, who cooked, did the laundry and taught table manners to the owner's children.  We saw a giant rolling pin that was used to flatten the mattress every morning and the men's drawing room with playing cards without numbers on them. We even saw what had to have been one of the very first recliners.  After this first tour, I had already taken 6 pages of notes and several dozen photos!
Read more in this article I wrote for Trip101.com.
We headed to our Swamp Tour next already covered here and then found Connie's Grill in Reserve, LA. for lunch. The Monday special was grilled pork chops, red beans and rice (of COURSE), salad, bread and dessert. Delicious.