A tour of Laura Plantation, located at 2247 Highway 18 in Vacherie, LA, is different from all the other tours in two main ways. 1) This doesn't LOOK like the stereotypical plantation mansion with its Creole colors of yellows, blues, reds and greens, rather than the typical white paint and columns found on most of the others.  And 2) the tour itself focuses on the PEOPLE and their stories, rather than on the furnishings and the architecture.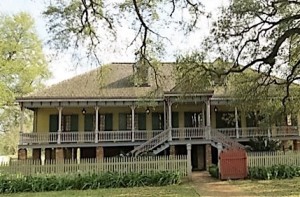 Laura Locoul Gore — the plantation's namesake — has provided most of the narrative for the tour personally in the memoirs she compiled and wrote out by hand for her grandchildren — "Memories of the Old Plantation Home," along with "A Creole Family Album" with Commentary by Norman and Sand Marmillion, who purchased Laura in 1993.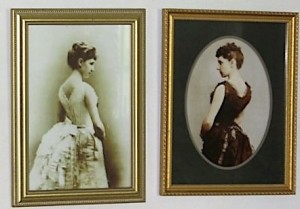 The bulk of the Laura story tells of 4 generations of strong successful women, starting with Laura's great-grandmother, Nanette Prud'Homme widow of Guillaume Duparc, then to her grandmother Elizabeth and on to Laura.  Interwoven with the history of plantation owners are stories of several notable slaves.
An interesting fact we learned is that Laura Locoul Gore was born when Abraham Lincoln was president and died when John F. Kennedy was president.  One day when she was a child she was playing at the well when one of the slaves named Felippe came to get water for the mules.  She noticed some letters on his cheeks and learned that he had been branded for running away when he was much younger.  That made an indelible impression on Laura. Add that to the fact that she lived between the times of two presidents who both emphasized Civil Rights, and you get a person with definite feelings about the rights of slaves and how they should be treated.
Lonely Planet Travel has called the tour of Laura "Best history tour in the USA!" Much credit for that goes to Joseph Dunn, Laura's marketing and public relations manager. He was the guide on the day we visited, and he is a walking encyclopedia of everything about the Duparc-Locoul Family and the culture and history during this plantation's storied past.  He could write a book — and I personally encouraged him to do just that!! Plus, he does a masterful job of pronouncing all of the French names in this plantation's story.
There are 12 buildings on the plantation grounds that are on the National Register of Historic Places.  In one of the 160-year-old slave cabins, the West-African folktales known in English as the Tales of Br'er Rabbit and Br'er Fox were recorded.
I took pages of notes while Mr. Dunn narrated our tour, but I'd love to go back and take pages more.  There is so much to learn.  When you visit, expect to be inspired and challenged.  There are 13 tours given each day — 10 are in English, 3 are in French. Be sure to check the website for ticket prices, directions, days when it is closed and many more tips to prepare you for your visit.