Steve and I recently spent a few days in our beloved Auburn — the place where we spent the first year of our marriage, from which we both have hard-earned degrees, and to which we both sent much hard-earned money when our kids were there.  We needed to get away.  We've had a lot of sorrow and stress since February of this year.  We wanted to just "be" for a few days.  Whipping out my Travel Writer Hat, I started researching the latest and greatest restaurants that I could review.  Our kids, instead, balked at that idea and said we should stick to the "tried and true."  We managed to do both.  In a future post, you will read about restaurants that have appeared on the scene in recent years and have begun gathering their own loyal followers.
For those who know The Loveliest Village on the Plains well, you will recognize the places in the photos, and hopefully, they will conjure up great memories.
Laura says, "When I think of Auburn, I think of chicken fingers.  My two favorite places are Guthrie's and Tenda Chick."  So Laura, these photos are for you.  I hope you get to eat some soon.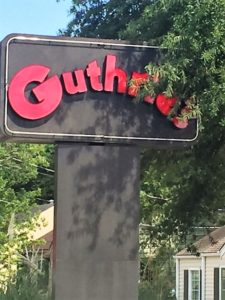 Niffer's is another traditional place for Auburn alums and for present students.  I tasted their corn nuggets with honey mustard dressing for the first time this week.  Oh my!  Steve and I shared a basket and seriously couldn't make ourselves stop eating them.  Positively addictive.  Niffer's has great burgers.  They have so much variety that even vegans and vegetarians can dine there with plenty of choices.
Cheeburger Cheeburger is right down the sidewalk from Toomer's Drugs as you go toward the railroad tracks.  Or, if you're merely thirsty, stop in at Toomer's for lemonade.
The newly-planted trees at Toomer's Corner will finally be ready for rolling with the upcoming football season.  Let's just hope that exuberant celebration event gets to happen many times beginning September 3, 2016 when Auburn plays Clemson.  In case you were in a foreign country after Auburn won the National Championship in 2010, Google "Harvey Updyke" or "Toomer Trees" to read the full story.  It has been a massively expensive restoration project to be able to bring this tradition back to the Auburn campus.
Do you need a new Auburn t-shirt or sweatshirt?  The 3 top places to look would be J & M Bookstore, Anders Bookstore and Tiger Rags.  Tiger Rags is also the place to get your Game Day shirt when you arrive on a future fall Saturday.
THE iconic building at Auburn is Samford Hall. It has provided the backdrop for thousands of family photos.  Two grads — one from 1971 and one from 1972 — couldn't resist the photo op either.  Have I mentioned that I graduated the same day that Pat Sullivan did?
"2 bits — 4 bits — 6 bits, a dollar.  All for Auburn, stand up and holler!!!!!  War Eagle!!!"   20 days until kick-off!!