Whether you are going to cheer on the Auburn Tigers for a football or basketball weekend, or maybe you've spent a day or two at Callaway Gardens and have a few more days of vacation, or perhaps you want to escape the pandemonium of Atlanta's traffic for awhile — may I suggest planning a day or more in LaGrange, GA. This town with a population of slightly more than 30,000 will startle you with its variety of cultural attractions and its entertainment possibilities.
Folks who claim LaGrange as their hometown are serious about the historical significance of their heritage. That is evident to visitors as soon as you ride into the downtown square. The focal point is a statue of General Marquis de LaFayette surrounded by a fountain. The story goes that when General LaFayette visited this land in Georgia, he remarked to General Troup (for whom the county is named) that it reminded him of his estate in France, an estate he called LaGrange.
The Legacy Museum on Main contains many artifacts and murals depicting life in LaGrange since its beginning. A fascinating display features the life and accomplishments of Horace King, a man who was born a slave but earned his freedom by becoming a master bridge builder. A replica of one of his covered bridges using a Lattice Truss design is on display. In the Legacy Museum you will also hear of the "Nancy Harts," a group of women whose efforts convinced the Yankee invaders to spare homes in LaGrange from being burned to the ground during the Civil War. 
The LaGrange Art Museum, a few blocks away at 112 Lafayette Parkway, is housed in a Victorian-style jail built in 1892. The building itself is an interesting work of art but so are the 440 pieces collected inside, many of which emphasize American Southern art.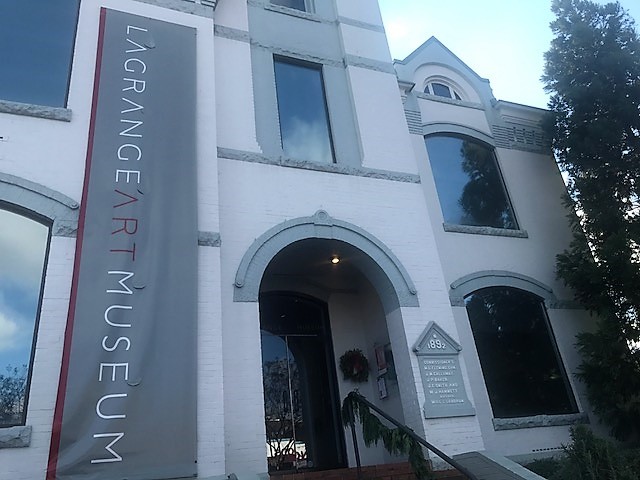 Also in the downtown area, you will find a state-of-the-art movie theater complex, many antique stores, clothing and gift boutiques and the Sweetland Amphitheatre at Boyd Park. During the winter, Sweetland becomes a popular family ice rink, but throughout the year, it is a 2500-seat concert venue. In the past, Willie Nelson, The Temptations and The Charlie Daniels Band have appeared with many other headliners in the works for this coming summer. A look backstage at the pre- and post-concert digs for performers made me wish I could be in such a band . . . at least for a day or so. 🙂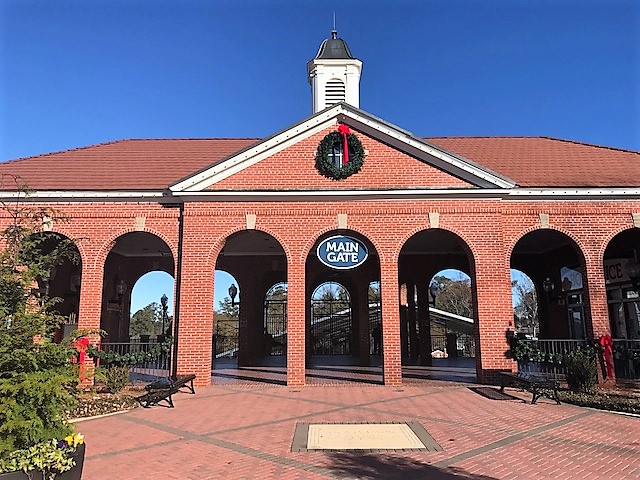 A couple of interesting art and culture-related facts associated with LaGrange:
LaGrange has more Andy Warhol prints per capita of any town or city in the United States, thanks to the collection of Wesley and Missy Cochran.
MOST LIKELY the song that was sung to us as children and we have always sung to our children "You Are My Sunshine" was written by LaGrange native Oliver Hood in the 1930s. And, speaking of music, when you plan your trip to LaGrange, be sure to check the website for the LaGrange Symphony Orchestra. (Yes, this town of 30,000 has an orchestra!). You might be lucky enough to get tickets to one of their performances. The next one on the calendar will be on March 20th.
BIG NEWS for LaGrange is the upcoming opening of GREAT WOLF LODGE GEORGIA, scheduled for summer of 2018. This will be a world-class resort with 500,000 square feet of entertainment, dining and lodging options and will showcase a 93,000 square foot water park. LaGrange will be on everyone's radar once that happens.
Have I enticed you to seek out LaGrange, GA? I truly hope so. And, by the way, a gorgeous new Courtyard by Marriott opened in the town square in mid-December of 2017. The rooms and amenities are topnotch, and the location is perfect for exploring everything I've described in this post.
I told you previously about some great restaurants in town, and about Hills and Dales Estate and the Biblical History Center. You're all set. Enjoy your trip!