Florence, Muscle Shoals, Tuscumbia and Sheffield — the quartet of towns referred to as "The Shoals" — give us all kinds of reasons to visit for a day or a weekend. Tours of recording studios are must-dos because of all the remarkable music that has been created in those places. Lots of neat stores for shopping lure us and our credit cards. Followers of athletic and other endeavors at the University of North Alabama don their purple and gold and hope for a glimpse of Leo III and Una in their world-class lion habitat on campus. And Florence also hosts First Fridays every month from March to December with family-friendly art, music, shopping and entertainment with free admission.
It's a given that you will want to plan good places to eat when you visit The Shoals, and two new ones really caught my attention recently. I highly recommend both of them to you.
Perhaps you've heard of John Currence, James Beard Award recipient of Best Chef: South in 2009? He has put Oxford, Mississippi on the map as a foodie destination with his FOUR restaurants in the town. Now he's in the process of expanding the locations of one of them — Big Bad Breakfast — and a Florence location opened just a few weeks ago. At 315 North Court Street, this BBB is on the ground floor of the Stricklin Building which will soon house the Stricklin Boutique Hotel and the Boiler Room. It is open 7 days a week from 7:00 a.m. to 2:30 p.m. Imagine a breakfast featuring a signature blend of coffee from Royal Cup, bacon or sausage from a farm in Eva and a side order of grits grown in Wilsonville, AL. Yes, there's more — so much more.
Cathead biscuits are legendary as well as the variety of skillets. BBB serves up an array of omelets, pancakes, waffles and even health-conscious options. I chose chicken and waffles when I visited. The chicken was SO tender, and the waffle was light and fluffy. Perfection! Oh, and all the jams are housemade. No Smuckers allowed.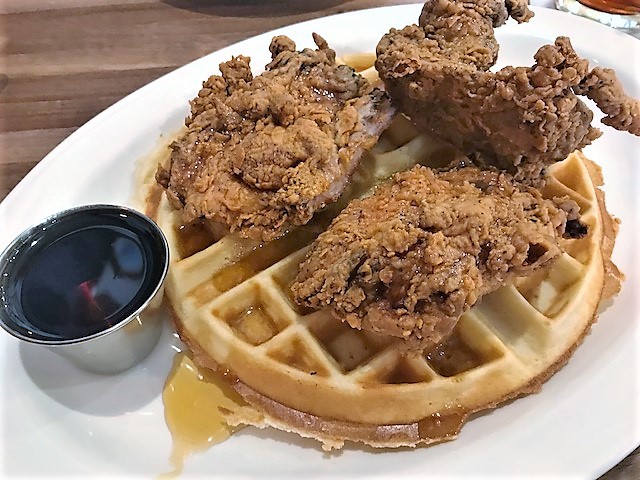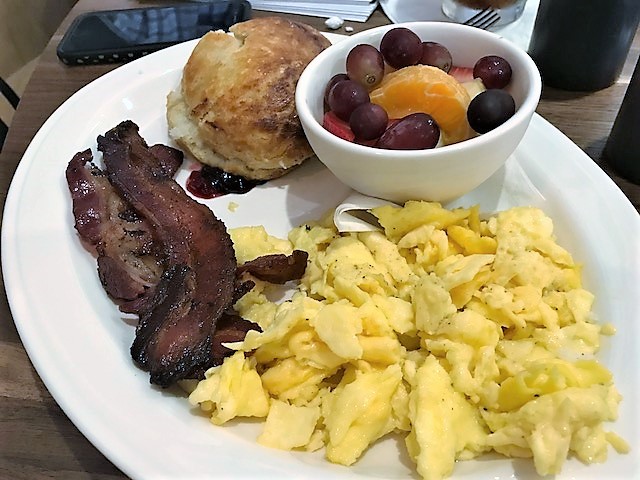 If you're not a "morning person," a full lunch menu is also available with burgers, sandwiches, salads, quesadillas and even shrimp and grits.
I really admired the furniture made from an Amish community in Summertown, Tennessee. Go and check it out.
Ray's at the Bank, 1411 Huntsville Road in Florence, is, as the name implies, housed in a former bank building. The inside is very "vintage" with exposed brick walls, but the atmosphere is elegant. Well, actually it's fairly casual at lunch but turns more upscale for dinner. My sources tell me that in the evenings they serve a "filet you can cut with a spoon" and that the prime rib is fabulous. I always like restaurants with white tablecloths.
Ray's is only about two years old. The owners formerly operated Dish in downtown Florence but chose to close Dish and open in this location.
During a recent lunch, I chose the chicken salad and fruit plate while my friend had the day's soup special — chili. We could have ordered burgers, sandwiches, other salads or even barbecue cooked on their hand-crafted smoker. Everything was delicious, and I hope to return soon for a dinner date.
Take note that the dinner menu changes nightly, but it can be found on the Ray's Facebook page.