Before our recent trip to New York City, Steve asked me for suggestions as to what I'd like for my Christmas gift this year. I jokingly said, "Well, what about something from Tiffany's?" But, in seriousness, I replied that I'd really like to have Afternoon Tea at The Plaza. In spite of the fact that such a frou-frou occasion sounded WAY out of his comfort zone, he agreed and let me make our reservations. The event matched my expectations and anticipation beautifully.
First of all, the setting at the Palm Court is exquisite. The ceiling, the architectural details, the ornately woven rugs, the plants, the music (light jazz a la Frank Sinatra and Nat King Cole), the table linens, all of it has been welcoming dignitaries, movie stars, and common folks like us since 1907.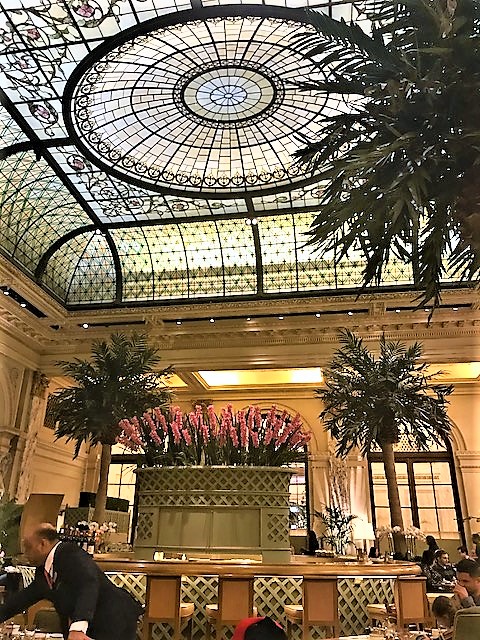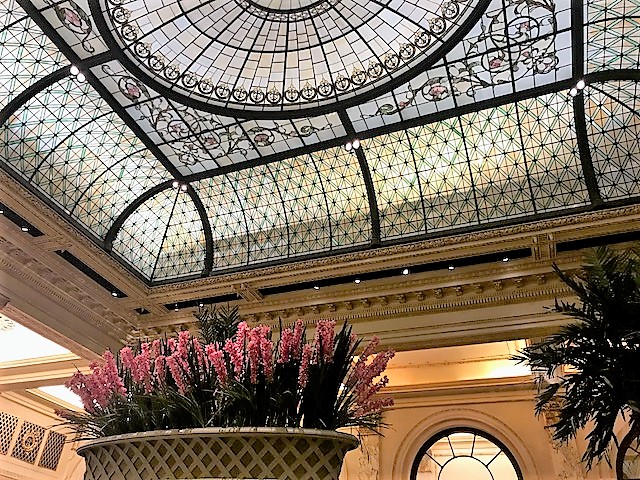 Our server knew how to put out-of-town, fairly unschooled, formal afternoon tea people at ease. She helped Steve choose a wonderful green tea, and my black tea had a light, but complex flavor. I noticed hints of cinnamon, vanilla, ginger and apples. I liked it with a cube or two of sugar, and lo and behold, I discovered that I really like a touch of milk in my tea. Who knew?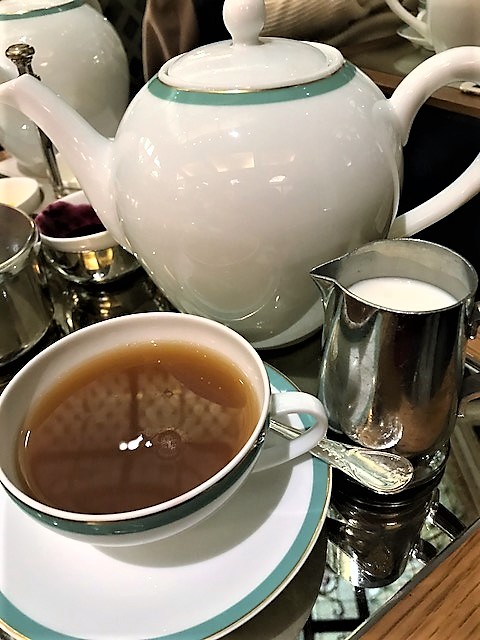 Although guests are booked solid every afternoon from noon until 5:00 p.m., especially during the holidays, we felt completely unhurried. Eventually, our tiered tray of sweets, savories and scones arrived and looked amazing. After a morning of browsing holiday markets and walking through Central Park, we were ready to enjoy these special treats.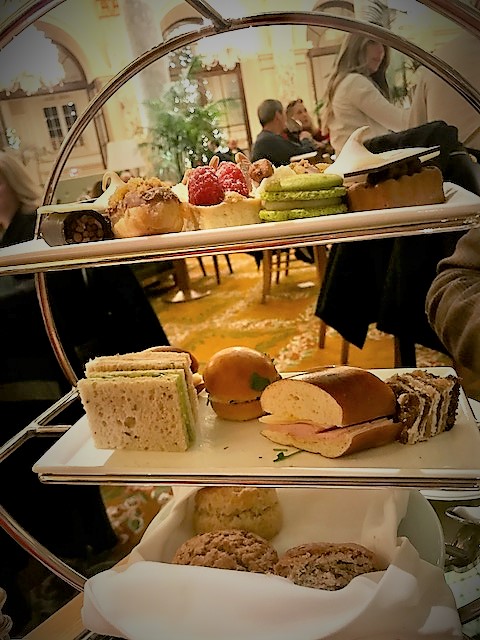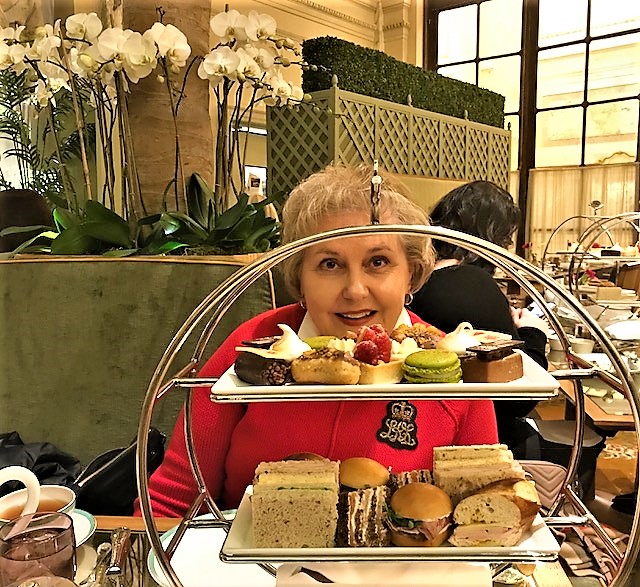 The middle tray of sandwiches and savories included a smoked salmon and pumpernickel napoleon, deviled egg salad on white bread, roasted turkey on wheat bread, English cucumber on rye bread, Parisian ham and gruyere cheese on a pretzel ficelle and roasted prime rib on a brioche roll. So much variety, definitely something there for even the finickiest eaters.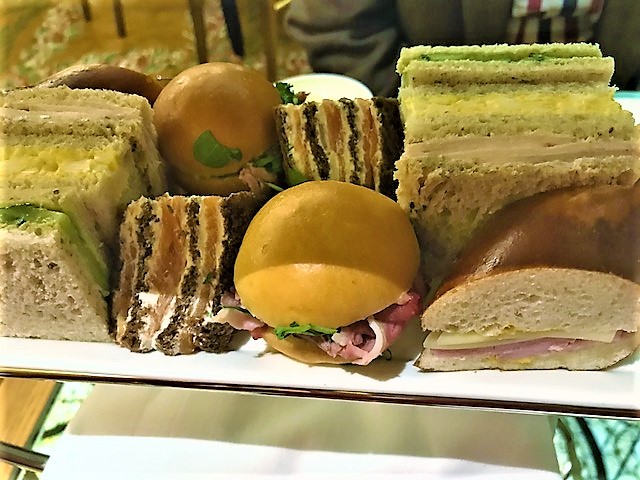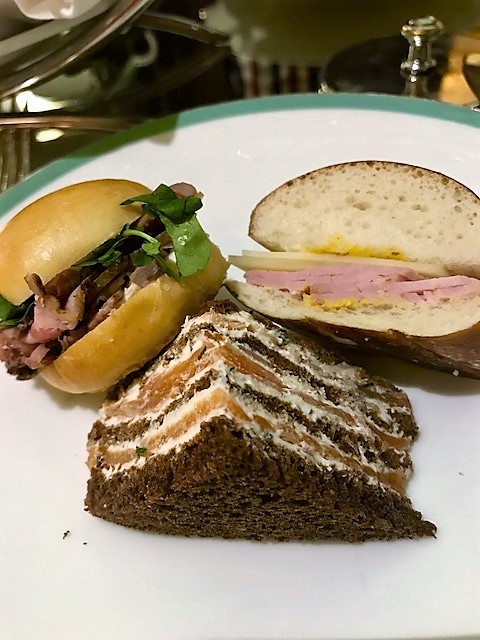 I've never thought of scones as being extra special, but that's probably because I haven't had them with double devonshire cream, lemon curd or fresh preserves. Lemon curd was my favorite. That touch made the scones positively decadent.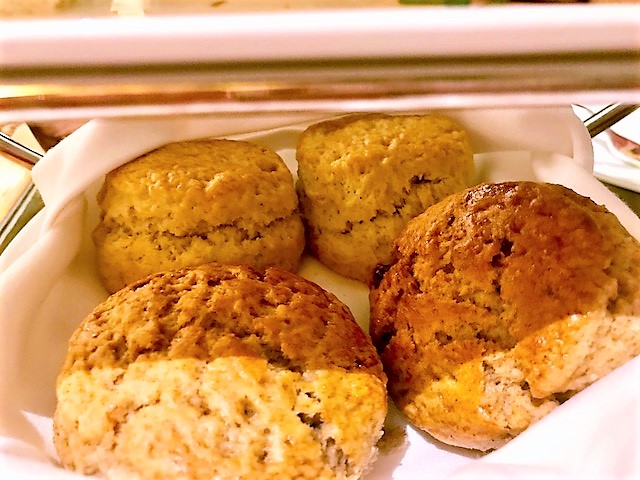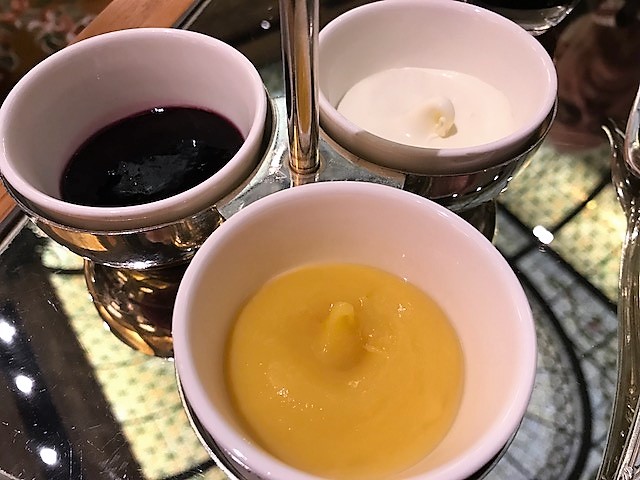 The pastries and sweets were tiny (but not too tiny) bites of artfully-presented and intricately-delicious perfection. Listen to these descriptions: chocolate hazelnut nutella turron, chocolate and cherry buche de noel, eggnog tart with cranberry preserve and candied orange, raspberry tart, maple cheesecake with candied pecans, mandarin orange chocolate eclair and green apple and cinnamon macaron. And, yes, I had to look up several of those words. Turron is not in my everyday vocabulary. 🙂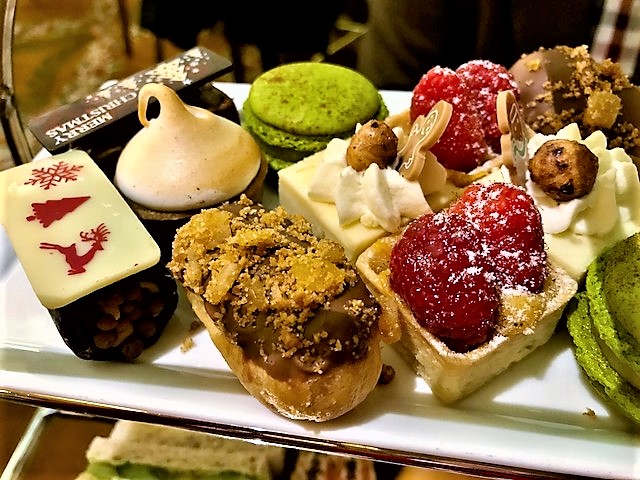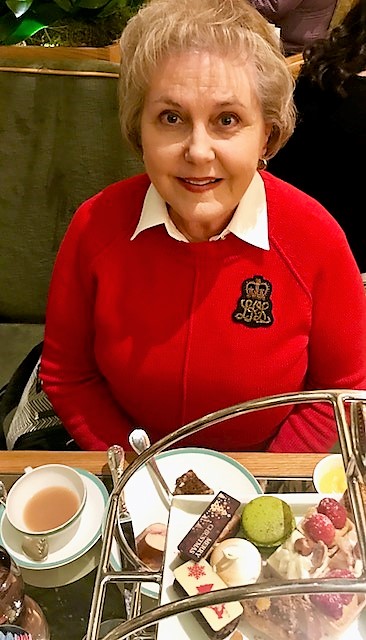 I was completely surprised when the server appeared with a chocolate replica of The Plaza for each of us as parting gifts. (And, they both made it home unscathed in my carry-on bag). I can't imagine actually breaking these apart and eating them, but I'll enjoy showing them to the grandkids. 🙂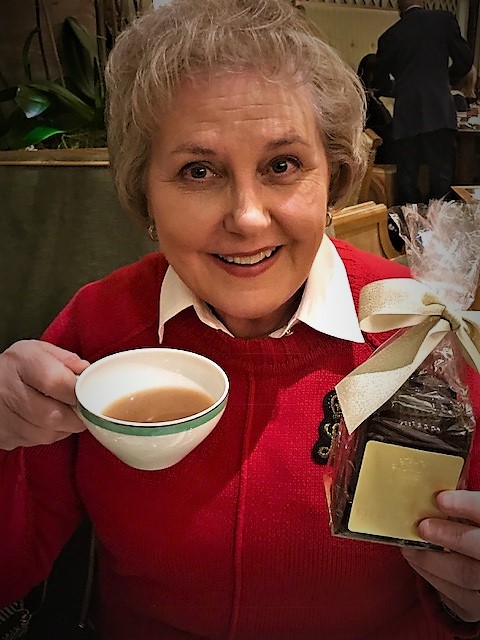 Apparently, very few people are able to eat everything on those trays in one sitting. Happily, the servers are gracious to offer to box up the leftovers, so Steve and I enjoyed them later than night after more sightseeing.
So, thank you, Silver Fox, for giving me this unforgettable afternoon. I loved making this memory with you.