When Steve and I starting talking about marriage, I remember asking him what he wanted to do after he finished veterinary school at Auburn.  He said, "Well, I'd like to start a practice in either Hartselle (AL) . . . or Australia."  !!!!  I said, "Well, why don't we start with Hartselle and see how that works out?"  That's what we did.  Hartselle was good TO us and FOR us.  It is our children's hometown.  So, as a tribute to that great place, I want to launch my travel blog by bragging on Hartselle and by recommending it to those of you who've never been there.
If you have "a tank of gas and a day off," I know you'll enjoy spending it in "The City of Southern Hospitality."  To get an overview, click here.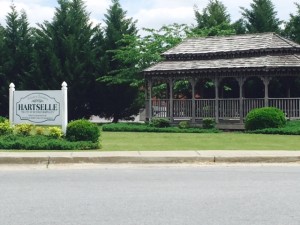 You can find Hartselle by taking Exit 328 off of I-65 (between Cullman and Decatur) and heading west.  The downtown area has evolved into a mecca for antique shoppers.  Just park somewhere around the railroad tracks (you'll find parking lots in either direction) and start walking.  A new place that has just opened is owned by our good friend, Lori Tyler Smith and her husband Eli.  It's called Telli's Place (named for their children Tyler and Elli). It is open Wednesdays through Saturdays. But you will find at least a dozen more places within just a block or so. When you get to the first redlight from the tracks, keep walking west, north or south for other treasures.
Working up an appetite might be the most fun of all. You can't go wrong with either Cahoot's or The Freight House.  The Freight House is a converted warehouse by the tracks, and Cahoot's has a lot of fun nooks and crannies for seeing and sitting.  Both have delicious Southern country favorites.  If it's a gorgeous day and you'd rather take some carry-out to E.A.R.T.H. park (a block from the SECOND redlight — turn left) or to Sparkman Park (Ask the locals.  It's not far, but you'll need to go back to your car.  Won't you need to take all of your shopping bags anyway?), then I must suggest chicken fingers from Dari-Delite, baked beans and homemade desserts from Pig Stand (both on Hwy 31), and/or barbecue from Southern Hickory Barbecue at 700 Nanceford Road (within spittin' distance of the park).
If you have children or grandchildren with you in the summertime who are much more interested in swimming than in shopping, I highly recommend the new Hartselle Aquatic Center.  It is a state-of-the-art facility with a very watchful and well-trained life-guarding staff.  To learn about hours of operation and pricing, click here.  Water slides, diving platforms, a large kiddie pool, a lazy river, and plenty of places for adults to sit and watch — who could ask for anything more?  We took 9 of our grandchildren last summer, and they loved it.
If you can't fit in a visit until September, then may I suggest coming for Depot Days?  You won't be alone, but you WILL be entertained.  Hartselle pulls out all of the stops for this annual event.  Click here for all the details.  The official dates are September 12-19, 2015, but you'll want to be sure to be there on Saturday, the 19th.
Have a hankering to book a cruise while you're out shopping?  Stop by Adventures Unlimited right there on Main Street and talk to my friends, Fred and Sandra Smith.
One more shameless plug.  If you brought Fluffy, Fido or FiFi on your trip and he or she gets hurt or starts feeling sick, I highly recommend Pearson Animal Hospital on Highway 31.  We don't own it anymore, but we came to know hundreds of delightful people during our 30 years in business there. Tell Dr. Gault and Dr. Crouch that I sent you.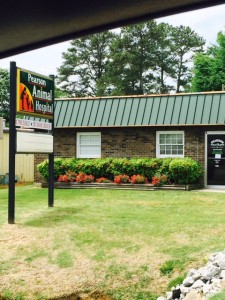 So, if you have "a tank of gas and a day off," a wonderful way to spend your time would be in Hartselle, AL.  Be warned, though.  You may like it so much, you'll want to pack up and move there.